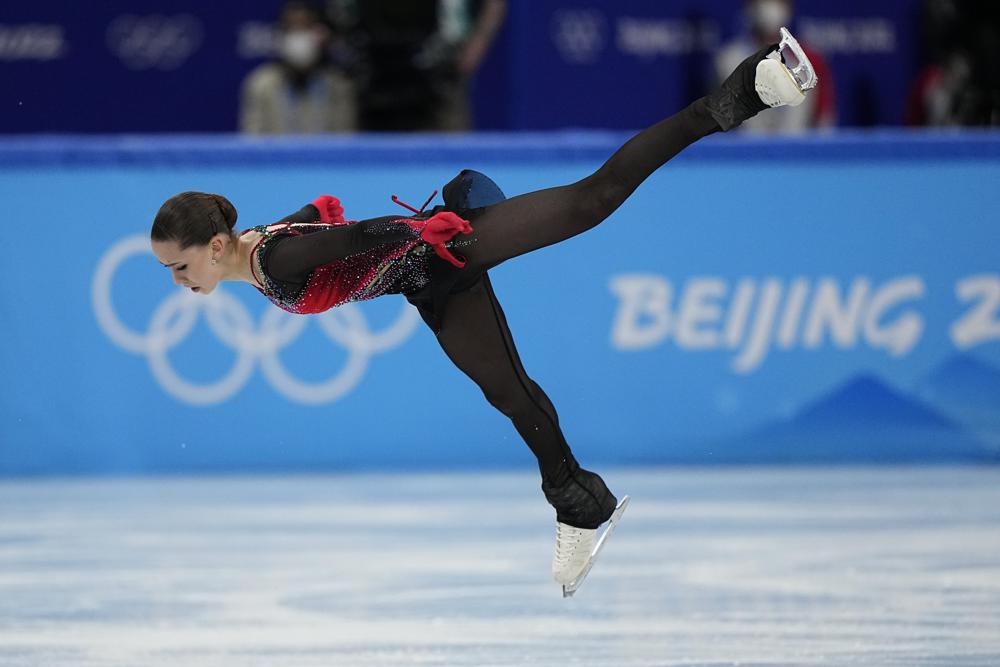 At the age of just 15, Kamila Valieva has emerged as the breakout star of the Winter Olympics.
The Russian sensation, nicknamed 'Miss Perfect' and already anointed by many judges as the greatest female figure skater in history despite having scarcely started her senior career, has delighted viewers across the world with her dazzling skills.
She made history yesterday as the first female figure skater in Winter Olympic history to land a quadruple jump – and has been setting records since making her figure skating debut just six months ago.
But if that wasn't already enough, the superstar, who started skating lessons before the age of five and dreamt about being an Olympic champion since she was three years old, also boasts a Vogue Russia photoshoot and a dog gifted to her by her fans.
Meanwhile, Hollywood A-lister Alec Baldwin took to Instagram yesterday to congratulate Valieva on her achievements, saying: 'Thank you, Kamila Valieva, for your gift of heart-stopping beauty to the world.'
Valieva, who has 320,000 followers on Instagram, where she shares glimpses of her training and lifestyle, has admitted, however, that she already feels a 'burden of pressure'.
'I do feel this burden a bit, this pressure, because this is my first season among adult skaters,' Valieva said. 'I believe that I'm coping with this pressure, and sometimes it even pushes me forward. It helps me.'
'I was little nervous going into the competition,' said Valieva, one of three Russian skaters hailing from the famous Sambo-70 club in Moscow, before adding: 'I am thrilled to be at the Olympic Games.'
'When I was three years old, I made a wish to become an Olympic champion,' Valieva said after her free skate at Beijing's Capital Indoor Stadium. 'My childhood dream has come true.'
Fans were impressed by her skating at the Olympics – even one celebrity, with Alec Baldwin sharing a clip of one of Valieva's performances to her Instagram account.
Click here to read more.
SOURCE: Daily Mail, Jessica Green