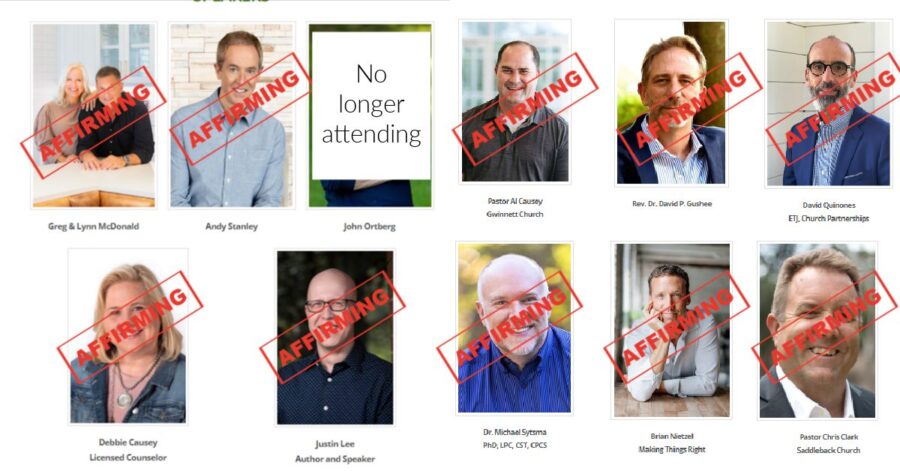 PASTOR JOHN ORTBERG WISELY DECIDES NOT TO SPEAK AT ANDY STANLEY'S UNBIBLICAL UNCONVENTIONAL HOMOSEXUAL FAMILY CONFERENCE FEATURING 95% LGBTQQIPF2SAA+ (WHICH STANDS FOR LESBIAN-GAY-BI-SEXUAL-TRANSGENDER-QUEER-QUESTIONING-INTERSEX-PANSEXUAL-FURRIES-TWO-SPIRIT-ASEXUAL-ALLY + PLUS OTHER LEGIONS OF DEMONS) AFFIRMING SPEAKERS. Daniel Whyte III, President of Gospel Light Society International, says what an abomination in God's sight! Where is the outcry from conservative, Bible-believing Evangelicals across the nation and around the world? Crickets! For many of them are out enjoying the 30 pieces of silver that they were paid to keep quiet.
North Point Community Church is still committed to hosting the Unconventional Conference, where Andy Stanley will be a keynote speaker. The conference is being put on by Embracing the Journey, a radical gay-affirming ministry that partners with North Point that offers to counsel parents of struggling LGBTQ+ children.
Notably, nearly all the speakers are gay-affirming and pro-homosexuality, some radically so, including at least one in a 'gay marriage.' While some have suggested the conference would be canceled after the revelation of who the speakers are coming to light, new announcements show it's right on schedule and is garnering they say "unprecedented" interest. Tickets range in price from $276 for the early bird pricing, to $518 for late registration.
For more on North Point Community Church's and Andy Stanley LGBTQ Affirming Stance, see below:
Gay Man with a 'Husband' Scheduled to Speak with Andy Stanley At His Church's Family Conference
North Point Leader Recommends All-LGBTQ+ Queer Counselling Collective For Struggling Gay Kids
Dr. Michael Brown Says He's Spent 8 Years Exchanging Texts and Emails with Andy Stanley, Who Has REFUSED to Condemn Homosexuality
Celebrating Transgenderism?! North Point Church Staffers Rejoice After Man Comes Out as WomanAudio: Gay North Point Church Leader Says Andy Stanley Affirmed Him in His Homosexuality
Did a Pastor at Andy Stanley's Church Just Out Him as Gay-Affirming?! Read the Excerpts
Contemporaneous Text Messages from 2019 Support Gay-Affirming Charges Against Andy Stanley Andy Stanley's Children Ministry Overrun and Led by Pro-LBGTQ+ ActivistsNorth Point Hosting Conference With Founder of World's Largest LGBTQ Christian Advocacy Org
Andy Stanley's Church Hosts and Promotes Pro-LBGTQ+ Ministry
Surprise Surprise, Another North Point Church Leader is Gay-Affirming and Wildly Liberal
Because a distinct portion the leadership at North Point is gay-affirming, the speaker list refects this, with almost all of them being pro-homosexuality in one way or another.
Source: Protestia
To read more, click here: https://protestia.com/2023/03/21/update-andy-stanleys-family-conference-ft-95-lgbtq-affirming-speakers-still-happening/