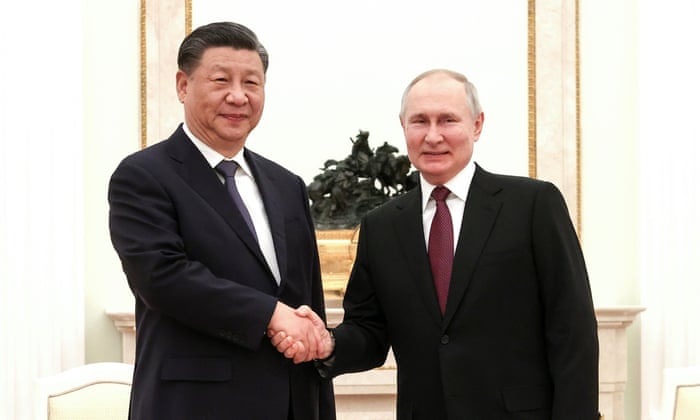 BREAKING WORLD WAR III NEWS: PRESIDENT XI JINPING ON HIS VISIT TO MOSCOW SAYS CHINA IS READY TO "STAND GUARD OVER WORLD ORDER"; XI JINPING IS EXPECTED TO POSITION HIMSELF AS PEACEMAKER; U.S. CONDEMNS XI FOR PROVIDING "DIPLOMATIC COVER" FOR RUSSIA
Xi Jinping said China was ready with Russia "to stand guard over the world order based on international law" as he arrived for a state visit to Moscow that comes days after Vladimir Putin was made the subject of an arrest warrant by the international criminal court.
The Chinese leader is expected to position himself as a potential peacemaker in the Ukraine war during his two-day visit to Russia – his first state visit since Putin's invasion. For his part, the Russian president will be hoping to project unity in the face of western isolation, as the US condemned Xi for providing "diplomatic cover" for Moscow to continue to commit further crimes in Ukraine.
A military brass band greeted Xi at Moscow's Vnukovo airport, where he was welcomed by Russia's deputy prime minister for tourism, sport, culture and communications, Dmitri Chernyshenko.
"I am very glad, at the invitation of President Vladimir Vladimirovich Putin, to come back to the land of our close neighbour on a state visit," Xi said upon arrival, according to Russia's state-run Tass news agency. "I am confident the visit will be fruitful and give new momentum to the healthy and stable development of Chinese-Russian relations."
Xi added that with Russia, China was "ready to resolutely defend the UN-centric international system, stand guard over the world order based on international law".
The two leaders spoke briefly to the press on Monday at the Kremlin before an "informal meeting".
"We have thoroughly studied your proposals on regulating the acute crisis in Ukraine. Of course, we will have an opportunity to discuss them," Putin told Xi, referring to China's peace plan for dealing with the war in Ukraine. "We are always open to negotiations," the Russian leader added.
Xi in turn praised Putin's "strong leadership" and said he was sure the Russian people would support him in the presidential elections next year.
The Russian leader has not yet formally announced he is running for president and the Kremlin on Monday was quick to deny Xi had inside knowledge about Putin's plans.
The state-run Ria news agency said Monday's informal talks lasted for four and a half hours. The talks were accompanied by a six-course meal that included blini with quail and mushrooms, fish and pomegranate sorbet, according to a menu published by a state media journalist. Putin then walked with Xi to his car and said goodbye.
Formal talks were scheduled for Tuesday, the Kremlin said.
Xi's visit comes three days after Putin was made the subject of an arrest warrant by the international criminal court for overseeing the abduction of Ukrainian children, sending Russia another significant step on the path to becoming a pariah state, and two days after he made a surprise visit to the occupied city of Mariupol in an apparent show of defiance towards the court and the west in general.
Washington said on Monday that Xi's visit to Moscow soon after the ICC's court order amounted to Beijing providing "diplomatic cover for Russia to continue to commit" war crimes.
"That President Xi is travelling to Russia days after the international criminal court issued an arrest warrant for President Putin suggests that China feels no responsibility to hold the Kremlin accountable for the atrocities committed in Ukraine," the US secretary of state, Antony Blinken, told journalists.
"The world should not be fooled by any tactical move by Russia, supported by China or any other country, to freeze the war on its own terms," he said.
Blinken said the United States welcomed any diplomacy for a "just and durable peace" but raised doubts that China was safeguarding the "sovereignty and territorial integrity" of Ukraine.
Source: the Guardian
To read more, click here: https://www.theguardian.com/world/2023/mar/20/xi-jinping-vladimir-putin-moscow-ukraine-war