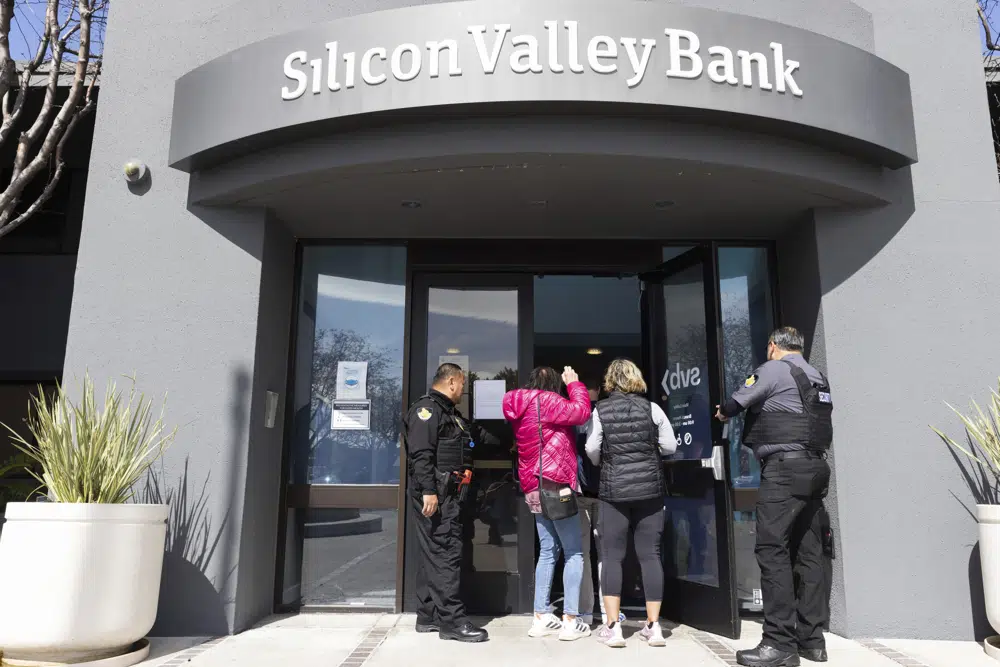 SILICON VALLEY BANK COLLAPSE IS WORRYING BLACK PEOPLE AND PEOPLE OF COLOR WHO HAVE STARTUPS 
In the hours after some of Silicon Valley Bank's biggest customers started pulling out their money, a WhatsApp group of startup founders who are immigrants of color ballooned to more than 1,000 members.
Questions flowed as the bank's financial status worsened. Some desperately sought advice: Could they open an account at a larger bank without a Social Security Number? Others questioned whether they had to physically be at a bank to open an account, because they're visiting parents overseas.
One clear theme emerged: a deep concern about the broader impact on startups led by people of color.
While Wall Street struggles to contain the banking crisis after the swift demise of SVB — the nation's 16th largest bank and the biggest to fail since the 2008 financial meltdown — industry experts predict it could become even harder for people of color to secure funding or a financial home supporting their startups.
SVB had opened its doors to such entrepreneurs, offering opportunities to form crucial relationships in the technology and financial communities that had been out of reach within larger financial institutions. But smaller players have fewer means of surviving a collapse, reflecting the perilous journey minority entrepreneurs face while attempting to navigate industries historically rife with racism.
"All these folks that have very special circumstances based on their identity, it's not something that they can just change about themselves and that makes them unbankable by the top four (large banks)," said Asya Bradley, a board member of numerous startups who has watched the WhatsApp group grapple with SVB's demise.
Bradley said some investors have implored startups to switch to larger financial institutions to stymie future financial risks, but that's not an easy transition.
"The reason why we're going to regional and community banks is because these (large) banks don't want our business," Bradley said.
Banking expert Aaron Klein, a senior fellow in Economic Studies at the Brookings Institution, said SVB's collapse could exacerbate racial disparities.
"That's going to be more challenging for people who don't fit the traditional credit box, including minorities," Klein said. "A financial system that prefers the existing holders of wealth will perpetuate the legacy of past discrimination."
Tiffany Dufu was gutted when she couldn't access her SVB account and, in turn, could not pay her employees.
Dufu raised $5 million as CEO of The Cru, a New York-based career coaching platform and community for women. It was a rare feat for businesses founded by Black women, which get less than 1% of the billions of dollars in venture capital funding doled out yearly to startups. She banked with SVB because it was known for its close ties to the tech community and investors.
"In order to have raised that money, I pitched nearly 200 investors over the past few years," said Dufu, who has since regained access to her funds and moved to Bank of America. "It's very hard to put yourself out there and time after time — you get told this isn't a good fit. So, the money in the bank account was very precious."
Source: the Associated Press, KAT STAFFORD and CLAIRE SAVAGE
To read more, click here: https://apnews.com/article/silicon-valley-bank-race-immigrants-98bc1692beddfa69d862b7e3cfe547e4