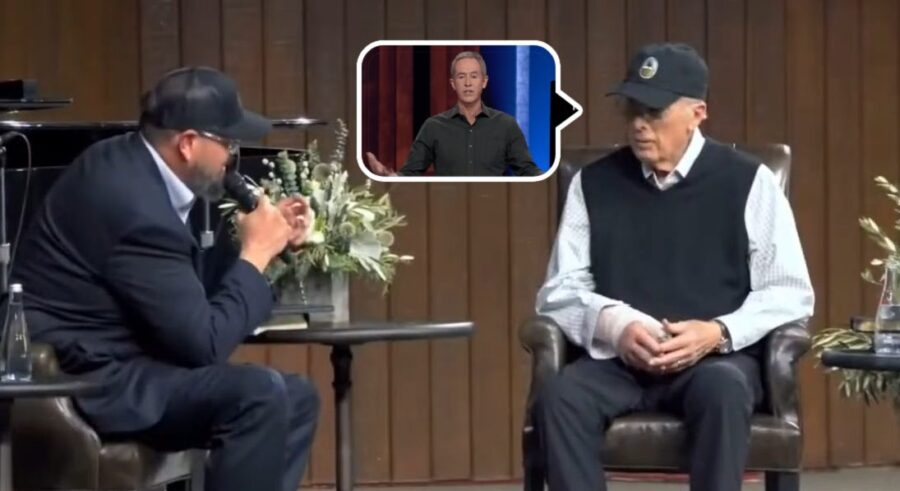 DR. JOHN MACARTHUR SLAMS ANDY STANLEY, TIM KELLER, AND THE SO-CALLED ASBURY "REVIVAL." Daniel Whyte III, President of Gospel Light Society International, thanks God that Dr. John Fullerton MacArthur Jr. is still with us because he is one of the few men who understand the times and knows what the Church ought to do. Glory be to God! "And of the children of Issachar, which were men that had understanding of the times, to know what Israel ought to do; the heads of them were two hundred; and all their brethren were at their commandment" (1 Chronicles 12:32).
On Thursday (March 9), pastor John MacArthur made his first appearance on the stage of Grace Community Church (GCC) since Jan. 1, when he preached one of the church's morning services, but was not well enough to preach the second.
Later that month, MacArthur underwent heart surgery to clear blocked arteries. The surgery was successful, but MacArthur's scheduled timeline to return to the pulpit was nevertheless ambitious. He was scheduled to preach the opening session of the Shepherds Conference this week, an annual event hosted at GCC, but was unable to do so.
However, he was able to appear in a subsequent session for a more informal conversation, which was facilitated by Austin Duncan, a staff pastor at GCC.
MacArthur Provides a Health Update
Referring to MacArthur's appearance at Shepherds Conference as "a providence," Duncan nevertheless admitted that MacArthur was "probably not supposed to be here." Commending him, Duncan said, "Classic MacArthur, total jock, total warrior, total lion."
Jokingly asking whether MacArthur would be giving up "extreme motorsports," Duncan invited MacArthur to provide a health update.
"Well, I feel great," MacArthur said. "I've felt good—really, generally speaking—before it became apparent that I had some arteries blocked, and coming out of that, that was completely successful for which I'm thankful. And since then I've felt great."
"The challenge for me has been to handle the medication. I'm not a good drug addict," MacArthur added, eliciting laughter from attendees.
Duncan went on to recall that MacArthur had joined a pastors' meeting a few weeks prior. Duncan said that upon sitting down, MacArthur joked, "This meeting is brought to you by Pfizer."
"Which coming from MacArthur is a very meaningful sentence," Duncan added, a reference to GCC's legal battles with Los Angeles County and the state of California following the church's decision to defy pandemic-related restrictions on gatherings.
Those legal battles will be chronicled in a documentary produced by the church, titled "Essential Church," which will be released in August.
MacArthur went on to elaborate on his recovery, saying that he had spent 10 days in the hospital following two heart procedures.
"I've never been this age before, so I'm trying to figure out what to do with it," MacArthur joked, adding that every day he feels "a little stronger" and gets "a little better." He predicted that within a few months, he'd be "back to normal or better than normal."
MacArthur continued, "Pastoral ministry is not about changing the culture. And if you define it theologically, your church will never have anyone who's a genuine member who's not part of the remnant. But I think ministry has been woefully lacking to the souls of the people of God."
"And so they have struggled, and they have been wounded. They have been without biblical teaching, without solid doctrine, without nourishing truth, while everybody is worried about what the world thinks, and making sure we identify with the world…when feeding the flock of God is how we discharge our ministry, and how the Lord builds his church," MacArthur went on to say.
MacArthur Expresses Skepticism Toward Asbury
Elsewhere in the conversation, MacArthur weighed in with his thoughts on what has been referred to as the Asbury Revival, a multi-week spontaneous event of prayer and worship that took place on the campus of Asbury University in Wilmore, Kentucky, last month.
"Look, that—whatever is going on [at Asbury]—can have multiple impacts," MacArthur said. "It's conceivable, of course, that some of the kids at Asbury and other schools confessed their sin, expressed love for Christ, have a fresh desire to read his word, to serve him."
MacArthur continued, "But the thing that is troublesome is when you blanket it all with the word 'revival.' It's everything, from people trying to cast out demons, from LGBTQ, the alphabet people as Voddie [Baucham] calls them—it's everything, from them leading the worship and leading the music."
"It's Arminianism. That school has had eight revivals like this over the years. And it keeps happening there, because it's a part of their culture," MacArthur said. "This one, by the way, wasn't spontaneous. It was designed to fit with [the National Collegiate Day of Prayer]."
Source: ChurchLeaders, Dale Chamberlain
To read more, click here: https://churchleaders.com/news/446630-john-macarthur-provides-health-update-criticizes-tim-keller-andy-stanley-asbury-revival-in-first-appearance-since-heart-procedure.html
John MacArthur Criticizes Tim Keller and Andy Stanley During ShepCon Q & A
Pastor John MacArthur took some time during his Shepherds Conference Q &A to answer questions about the role of the pastor, centering in on the need to feed the sheep while critiquing those who have an inordinate focus on giving themselves over to the culture.
In particular, he singled out Tim Keller (who MacArthur has criticized before) and Andy Stanley as two culprits who have been guilty of this.
"There's an inordinate affection, strange to say, for the culture. There's a driving desire that's twisted to reach the culture. You can go back to Tim Keller's mandates for urban renewal or Andy Stanley welcoming all the homosexuals because he wants to reach them. But pastoral ministry is not about changing the culture. And if you define it theologically, your church will never have anyone who's a genuine member who's not part of the remnant."
"…I think ministry has been woefully lacking to the souls of the people of God. And so they have struggled and they have been wounded. They have been without biblical teaching, without solid doctrine, without nourishing truth, while everybody is worried about what the world thinks and making sure we identify with the world and its style and its music and all of that when feeding the flock of God is how we discharge our ministry and how the Lord builds his Church."
Source Protestia