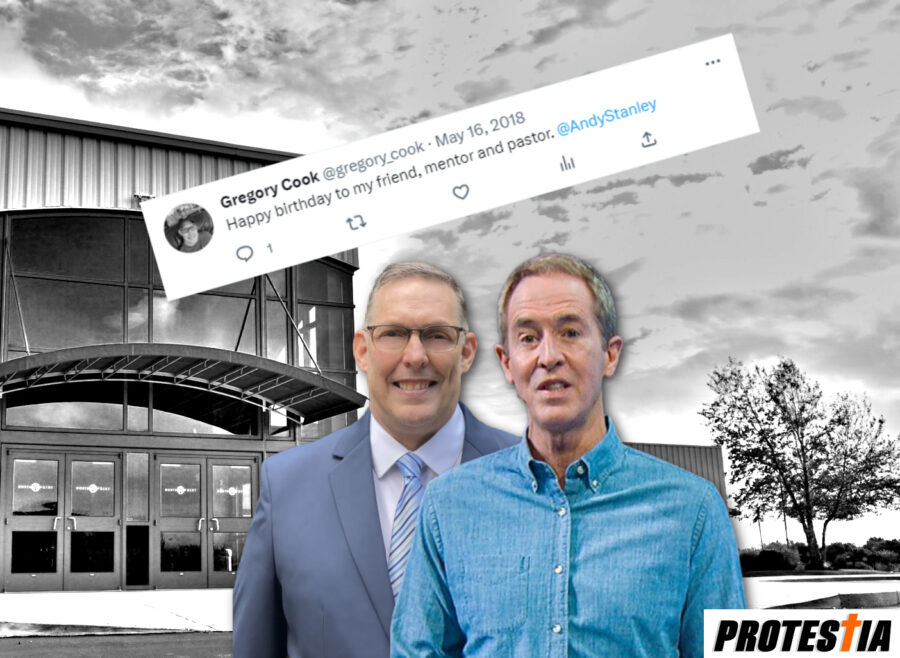 WATCH — SODOMITE-HOMOSEXUAL NORTH POINT CHURCH LEADER GREGORY "ORY" COOK SAYS ANDY STANLEY AFFIRMED HIM IN HIS HOMOSEXUALITY 
Daniel Whyte III, President of Gospel Light Society International, says he has been crying in the wilderness through his preaching and writing for over 12 years against this heretic false pastor Andy Stanley and his attempt to cause churches to accept unrepentant practicing homosexuals as members of the church, which Stanley attacked and raped the Holy Word of God in an attempt to do so. Now Whyte, through his preaching and writing, is calling out some of Stanley's disciples, such as Conway Edwards, pastor of One Community Church in Plano/McKinney, Texas. Whyte is thankful to God that the Lord led a few others to do the same. Whyte says now that thousands of you pastors see we were right all along, he is calling on all Evangelicals, Protestants, Southern Baptists, Bible Churches, National Baptists, Independent Baptists, Charismatics, and all Bible-believing pastors and churches to cut all ties with this heretic false pastor Andy Stanley and his disciples for what he has done and what he is doing. The devil, the government, major homosexual groups, and homosexual non-profits are using Andy Stanley to do the same thing in the church that is happening to our children in the public school system and the culture. If godly pastors, who have been quiet for years, do not stand up now against this demon-possessed heretic Andy Stanley and his disciples, such as Conway Edwards and others whom he has influenced, Whyte is afraid these Protestant church denominations will get caught up in a major Catholic-style, homosexual, ministers raping children, child molestation scandal that will destroy the groups that Whyte just mentioned above. If you have received books, materials, and money from Andy Stanley and his church, send them back and do not partake of the Judas 30 pieces of silver that betray God, Jesus Christ, the Holy Bible, and the Church. 
Daniel Whyte III says he has not called on Andy Stanley to resign like he has Karl Lentz, Brian Houston, and Conway Edwards because he believes that Andy Stanley is lost and on his way to a devil's hell. He believes that Stanley's church is a "Synagogue of Satan." He also believes that Andy Stanley was never called to preach based upon Stanley's own testimony that he was never called to preach but was just a "volunteer." He also believes that Andy Stanley is a homosexual or bisexual, as no born-again Christian man will be that comfortable with people unrepentantly practicing the abomination of sodomy and homosexuality.
With the news that Andy Stanley's North Point Community Church has become a cesspool filled with LGBTQ+ affirming pastors, leaders, ministries, guest speakers, and conferences, it's unsurprising that as more stones are overturned, more deviant theology emerges.
Gay Man with a 'Husband' Scheduled to Speak with Andy Stanley At His Church's Family Conference
Celebrating Transgenderism?! North Point Church Staffers Rejoice After Man Comes Out as Woman
Did a Pastor at Andy Stanley's Church Just Out Him as Gay-Affirming?! Read the Excerpts
North Point Leader Recommends All-LGBTQ+ Queer Counselling Collective For Struggling Gay Kids
Contemporaneous Text Messages from 2019 Support Gay-Affirming Charges Against Andy Stanley
Andy Stanley's Children Ministry Overrun and Led by Pro-LBGTQ+ Activists
ALMOST ALL Speakers at Andy Stanley's Upcoming 'Christian' Conference are LGBTQ+ Affirming!
North Point Hosting Conference With Founder of World's Largest LGBTQ Christian Advocacy Org
Andy Stanley's Church Hosts and Promotes Pro-LBGTQ+ Ministry
Surprise Surprise, Another North Point Church Leader is Gay-Affirming and Wildly Liberal
Source: Protestia
To watch videos and read more, click here: https://protestia.com/2023/02/11/audio-gay-north-point-church-leader-says-andy-stanley-affirmed-him-in-his-homosexuality/