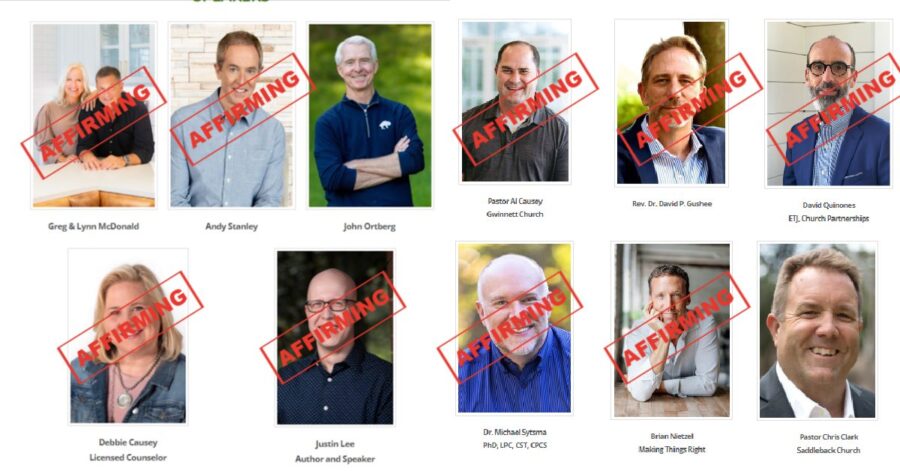 Daniel Whyte III tells Andy Stanley, Conway Edwards, and other homosexual-affirming pastors, according to the two passages below, if you want the church to be blessed by the Lord, and if you want revival in the church, the sodomites-homosexuals must go. They cannot be a part of God's church; they can visit to hear the Gospel to get saved from their sins and hell, but they cannot be members and celebrated in the church of the Lord Jesus Christ.
"And in the twentieth year of Jeroboam king of Israel reigned Asa over Judah. 10And forty and one years reigned he in Jerusalem. And his mother's name was Maachah, the daughter of Abishalom. 11And Asa did that which was right in the eyes of the LORD, as did David his father. 12AND HE TOOK AWAY THE SODOMITES OUT OF THE LAND, AND REMOVED ALL THE IDOLS THAT HIS FATHER HAD MADE." (I Kings 15:9-12).
"AND HE BRAKE DOWN THE HOUSES OF THE SODOMITES, THAT WERE BY THE HOUSE OF THE LORD, WHERE THE WOMEN WOVE HANGINGS FOR THE GROVE." (2 Kings 23:7)
REGARDING THIS ARTICLE ON THE HOMOSEXUAL UNCONDITIONAL CONFERENCE, DANIEL WHYTE III SAYS THREE THINGS BELOW: 1. REST ASSURED THAT DR. CHARLES STANLEY DOES NOT SUPPORT HIS SON ANDY STANLEY'S SODOMITE-HOMOSEXUAL-AFFIRMING POSITION. 2. DANIEL WHYTE III IS THANKFUL TO GOD FOR LEADING HIM TO WARN THE CHURCH AND THE WORLD AND PUBLICLY REBUKE THE HERETIC AND FALSE PASTOR ANDY STANLEY FOR OVER NINE YEARS. 3. DANIEL WHYTE III IS THANKFUL TO GOD THAT CONWAY EDWARDS, PASTOR OF ONE COMMUNITY CHURCH IN PLANO/MCKINNEY, TEXAS, IS NOT ON THIS SATANIC, HOMOSEXUAL-AFFIRMING SPEAKING ROSTER. ALMOST ALL SPEAKERS AT ANDY STANLEY'S UPCOMING UNCONVENTIONAL HOMOSEXUAL "EMBRACING THE JOURNEY" SPONSORED UNCONDITIONAL "CHRISTAN" CONFERENCE ARE HOMOSEXUAL-AFFIRMING (LGBTQQIPPF2SAA+ LEGIONS OF DEMONS which means the following: LESBIAN-GAY-BI-SEXUAL-TRANSGENDER-QUEER-QUESTIONING-INTERSEX-PANSEXUAL-POLYMORY-FURRIES-TWO-SPIRIT-ASEXUAL-ALLY+). 
Daniel Whyte III, President of Gospel Light Society International, says three things about this: 
1. Dr. Charles Stanley, one of the most outstanding pastors and pulpiteers in church history and the father of Andy Stanley, is not for what Andy Stanley is doing regarding the pushing of homosexuals to be accepted and celebrated as members of the church of the Lord Jesus Christ. But he is not saying anything for one reason. If you think after all the hell Charles Stanley has been through with the Judases and Absaloms in his family that has hurt him deeply, as a white Southern Baptist, that he is going to say something that is going to jeopardize him getting the hugs and kisses of those grandchildren, you need to think again. Someone said regarding this striking passage, "If any man come to me, and hate not his father, and mother, and wife, and children, and brethren, and sisters, yea, and his own life also, he cannot be my disciple" — it didn't mention grandchildren. Besides that, Dr. Stanley already knew Andy Stanley was this way before Andy Stanley disrespectfully left his home church – First Baptist Church of Atlanta. Dr. Charles Stanley is King David. Others have been assigned to rebuke the heretic Absalom-Andy-Judas. Some who have rebuked Andy Stanley have done it with the blessings of the old man. You will probably never know how Dr. Charles Stanley feels about his heretic son until he goes on to Heaven, and maybe not even then.
2. Daniel Whyte III is thankful to God for leading him to warn the church and the world and publicly rebuke the heretic and false pastor Andy Stanley for over nine years. For Andy Stanley's recent statements at the Drive Conference saying very foolishly that homosexual Christians have more faith in God than other Christians and now this unconventional homosexual-affirming unconditional conference is the culmination of what Whyte predicted Andy Stanley was trying to do going back to when Stanley sought to destroy the authority of the Bible by telling Christians we ought to unhitch ourselves from the Old Testament, and that is to get homosexuals accepted and celebrated as members in the church of the Lord Jesus Christ because all of this says that even though Daniel Whyte III was ridiculed, mocked, persecuted, and doubted, his constant warnings to the church and the world were right all along. And because Whyte was right all along, these admissions by Andy Stanley and his fully coming out of the clandestine closet as an affirming sodomite-homosexual-affirming pastor is a victory for God, Jesus Christ, and the prophet Daniel Whyte III. It also means that the so-called WOKE-Homosexual "SILENT CAMPAIGN" strategy did not work, and God's "7,000" "FAITHFUL FEW" "REMNANT" church has been preserved as we know it. All homosexual-affirming pastors and churches are apostates and hell-bound to the Lord's hell.
3. Daniel Whyte III is thankful to God that Conway Edwards, pastor of One Community Church in Plano/McKinney, Texas, is not on this satanic, sodomite-homosexual-affirming speaking roster. It is Whyte's prayer that Edwards, who knows better, will not be added on at the last minute as he added Andy Stanley to his speakers' roster at the last minute to his Climb Conference in January and that he will keep his wife, Jada, off the roster as well. 
Next fall, North Point Community Church is hosting the Unconventional Conference, where Andy Stanley will be a keynote speaker. The conference is being put on by Embracing the Journey, a radical gay-affirming ministry that partners with North Point that offers counseling to parents of struggling LGBTQ+ children.
Source: Protestia
To read more, click here: https://protestia.com/2023/02/03/almost-all-speakers-at-andy-stanleys-upcoming-christian-conference-are-lgbtq-affirming/