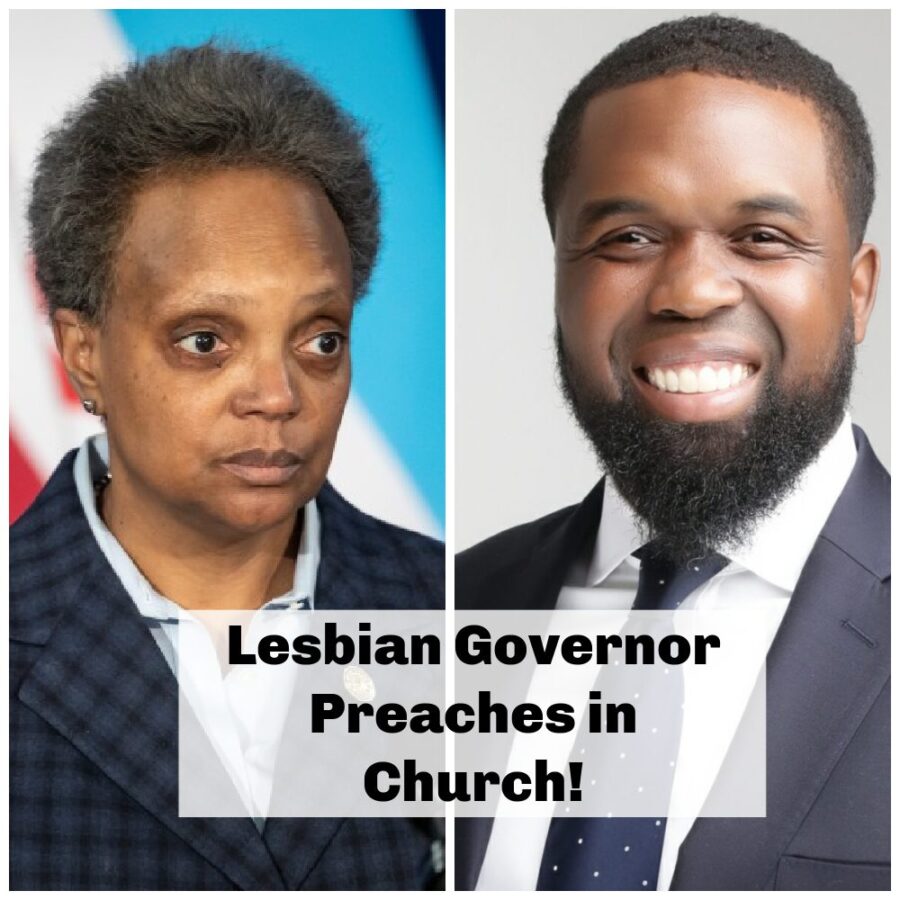 THE DEVIL IS A LIE AND WHAT AN ABOMINATION BEFORE GOD! FORMER SOUTHERN BAPTIST CONVENTION PASTOR & THE GOSPEL COALITION CONTRIBUTOR CHARLIE DATES INVITES SHAMELESS OPENLY LESBIAN "MARRIED-TO-A-WOMAN" CHICAGO MAYOR LORI LIGHTFOOT, WHO ONCE SAID SHE "HAS THE BIGGEST DICK IN CHICAGO," TO LITERALLY PREACH IN THE CHURCH'S PULPIT; WHAT IS SO SAD ABOUT THIS IS EVEN THOUGH WE AT BCNN1.COM ARE AGAINST THIS ABOMINATION AND FOOLISHNESS AND WE HATE TO SAY IT, BUT THIS DIKE PREACHED BETTER THAN DATES AND HAD MORE COMMAND OF THE AUDIENCE THAN DATES, BUT OF COURSE, THIS LESBIAN CAN'T TOUCH MEEKS. (DON'T GET IT TWISTED: JUST BECAUSE YOU MIGHT HAVE THE TALENT AND THE ABILITY, DOES NOT MEAN YOU OUGHT TO BE IN THE POSITION.) BE THAT AS IT MAY, BOTH DATES AND MEEKS OUGHT TO BE HANGING THEIR HEADS DOWN IN SHAME BEFORE GOD AND OUGHT TO BE FEARFUL AND TREMBLING AT WHAT GOD MIGHT DO TO THEM AFTER THIS DISRESPECT AND DISHONOR OF HIM IN HIS CHURCH HOUSE ALLOWING A REVELATION-TYPE JEZEBEL, TO NOT ONLY COMMIT SPIRITUAL FORNICATION WITH THE CONGREGATION OF GOD, BUT TO ACTUALLY COMMIT SPIRITUAL HOMOSEXUALITY WITH THE CONGREGATION OF GOD IN THE CHURCH PROMOTING HOMOSEXUALITY AND SAYING BY HAVING HER THERE THAT HOMOSEXUALITY/LESBIANISM IS OKAY. IF DATES IS GOING TO START HIS TENURE THERE AT THE ONCE GREAT SALEM BAPTIST CHURCH LIKE THIS, WE ASSURE YOU THAT THIS IS GOING TO BE ONE HELLACIOUS RUN. THE WOKE OBAMA HOMOSEXUAL MACHINE IS WORKING OVERTIME, AND THE JUDAS 30 PIECES OF SILVER IS FLOWING BIG TIME TO PUSH THE ABOMINATION OF HOMOSEXUALITY IN THE NATION AND IN THE CHURCH BECAUSE OF THE TRUE CHRISTIANS WHO ARE STANDING UP AGAINST THIS DEMONIC FOOLISHNESS ACROSS THIS NATION AND AROUND THE WORLD. AND CHARLIE DATES FOLDED UNDER THE PRESSURE LIKE A FOLDING TABLE. MAY GOD HELP US! WHERE ARE THE TRUE, CHRISTIAN, BIBLE-BELIEVERS OF SALEM BAPTIST CHURCH OF CHICAGO? STAND UP FOR GOD AGAINST THIS STUPID EVIL! Daniel Whyte III President of Gospel Light Society International calls on Charlie Dates to resign immediately. You have already messed up, son; You have already done the worst that you could possibly do against God, Jesus Christ, and the church. Even committing adultery with a woman who is not your wife is not worse than this. You were not an elite preacher in the first place, and now, God has taken His hand off of you, son. And God has written ICHABOD across the once great Salem Church.
Charlie Dates is the new pastor of Salem Baptist Church of Chicago, a former/ (present?) ERLC and TGC contributor and former SBC Executive Committee panel member. He recently left the Southern Baptist Convention on account of their failure to embrace Critical Race Theory while claiming that current worship wongs are slave owner/ captor songs . He attacked other Black Christians as sell-outs for saying things like "I'm Christian before I'm Black", said the SBC "don't need Black Faces with White Theology/voices/ideas leading the convention", and called Beth Moore "one of God's leading women in the world." (who preached at his church last year)
This was when he wasn't describing the SBC as a bunch of racists that will never change, calling some black SBC pastors mere "tokens" or "assimilators," and calling SBC seminaries "vestiges of racial animus.
Source: Protestia
To read more, click here: https://protestia.com/2023/01/20/former-sbc-pastor-tgc-contributor-invites-lesbian-chicago-mayor-lightfoot-to-preach-in-his-pulpit/