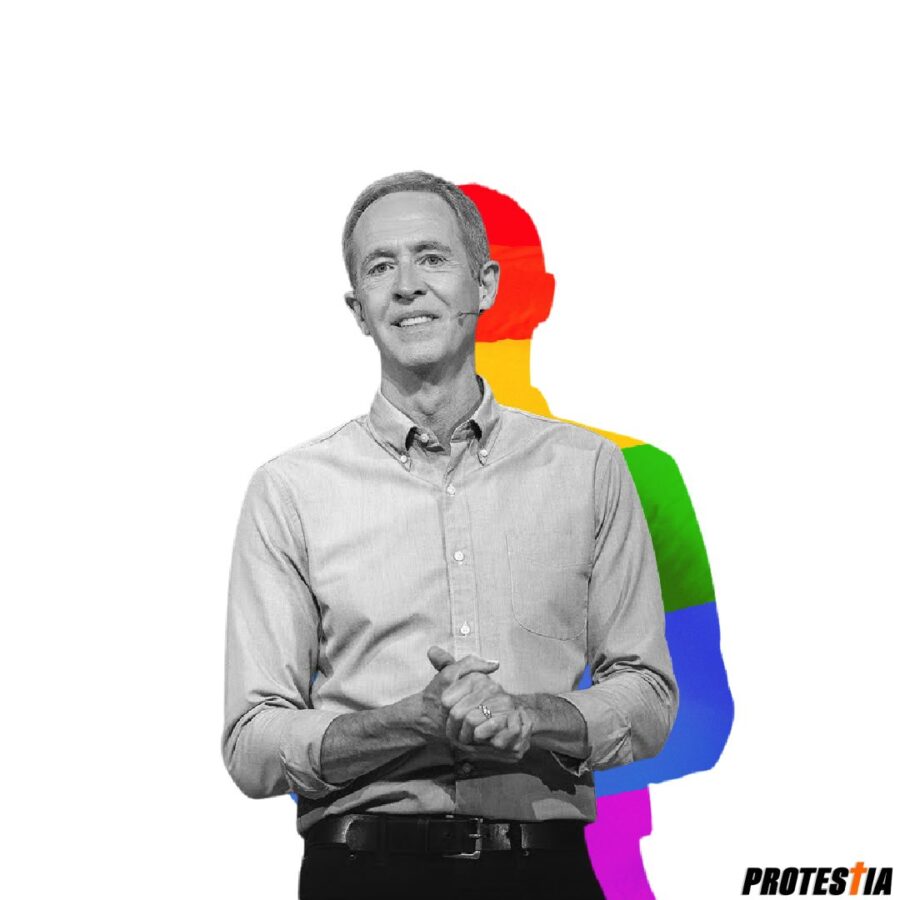 DANIEL WHYTE III SHARES 3 THOUGHTS REGARDING THE NUCLEAR BOMB REVELATIONS AGAINST ANDY STANLEY BY 3 PASTORS THAT THEY ARE FINALLY TELLING AFTER OVER THREE YEARS: 1. THE THREE PASTORS MENTIONED IN THIS SAD STORY — RYAN VISCONTI, LUKE SIMMONS, BRIAN KRUCKENBERG, ALONG WITH NOW THE LIKES OF CONWAY EDWARDS WHO IS NOW A CONFIRMED Protégé AND FOLLOWER OF ANDY STANLEY, AND A LONG LIST OF PASTORS AND SEMINARY TEACHERS WHO WHYTE CALLED UPON TO STOP THIS DEMON-POSSESSED HERETIC ANDY STANLEY EVEN BEFORE THIS NUCLEAR BOMB Q&A MEETING IN 2019, ALONG WITH, NO DOUBT, HUNDREDS OF OTHER YOUNG PASTORS BOTH BLACK AND WHITE, WHO HAVE HEARD AND FOLLOWED ANDY STANLEY'S HERESY AND ABOMINATIONS, HAVE FAILED THE CHURCH OF THE LORD JESUS CHRIST IN ALLOWING ANDY STANLEY TO CONTINUE ON HIS SATANIC, JUDAS, LAODICEAN, 30-PIECES-OF-SILVER, HOMOSEXUAL MISSION TO INFILTRATE THE CHURCH AND DESTROY THE CHURCH WITH DEMON-POSSESSED, UNREPENTANT, PRACTICING HOMOSEXUALS AND DESTROY THE CHURCH.
2. NO DOUBT, WHAT MADE SOME PASTORS PAUSE, ESPECIALLY THE OLDER PASTORS WHOM WHYTE CALLED UPON YEARS AGO TO STOP THIS DEMONIC HOMOSEXUAL-AFFIRMING, HERETIC JUGGERNAUT, EVEN BEFORE THE 2019 PASTORS' Q&A NUCLEAR BOMB MEETING IN ARIZONA, IS OUR MUTUAL LOVE AND RESPECT FOR ONE OF THE GREATEST PASTORS WHO EVER LIVED, CHARLES STANLEY. NONE OF US WANTED TO ACCEPT THAT A SON OF CHARLES STANLEY WOULD BE ONE OF THE MOST DAMNING HERETICS IN CHURCH HISTORY. BUT HE IS. AND WHYTE IS CALLING ON THESE OLDER PASTORS, AGAIN, WHO ARE ALL STILL LIVING, TO STOP HIM NOW, BY ANY MEANS NECESSARY BY PUBLICLY DENOUNCING HIM AS A HERETIC AND OR A FALSE PROPHET IN WRITING AND SPEECH. ANOTHER WAY YOU EVANGELICAL GATE-KEEPERS CAN STOP HIM IS TO SHUT DOWN ALL EVANGELICAL NETWORK PRIVILEGES SUCH AS TAKING ALL OF HIS BOOKS OUT OF LIFEWAY STORES AS YOU HAVE DONE MEN WHO ARE NOT HERETICS; MAKE SURE HE DOES NOT APPEAR IN CHURCH LEADERS MAGAZINE AN OUTREACH MAGAZINE ANYMORE, NO MATTER HOW MUCH MONEY HE PAYS THESE MAGAZINES OWNED BY HIS FRIEND ED STETZER TO GET INTO THEM; BLOCK HIM FROM ALL MAJOR LIFEWAY CONFERENCES AND ALL OTHER CONFERENCES; BY LETTING PEOPLE KNOW IN WRITING AND VERBALLY THAT THIS MAN IS A SATAN-LED, JUDAS HERETIC HELL-BENT ON DESTROYING THE CHURCH.
HERE IS WHAT WHYTE SAID AND HERE ARE THE NAMES OF PROMINENT PASTORS WHO WHYTE CALLED ON TO PUBLICLY REBUKE ANDY STANLEY BEFORE THE 2019 NUCLEAR BOMBSHELL ANDY STANLEY Q&A WITH PASTORS IN ARIZONA:
Andy Stanley is a 'False Prophet' and I Am Calling on Respected Christian Leaders Across the Nation and Around the Globe, Such as Al Mohler, David Jeremiah, John MacArthur, Franklin Graham, Tony Evans, Jack Graham, and Greg Laurie, to Stop Giving Him the Benefit of the Doubt and Rebuke Him Harshly and Openly as a False Prophet Who Has Taught Heresy for Years; I Am Also Calling on Dallas Theological Seminary and Other Seminary Presidents to Condemn This Heresy, for All Christian Bookstores to Cease Carrying His Books and Materials, and for All Young Pastors to Stop Using His Philosophy, Vision, and Materials. And Yes, I Am Calling on Our Beloved Dr. Charles Stanley and Pastor of His Home Church, First Baptist Church Atlanta, to Pull Andy Stanley and Sit Him Down Until He Recants and Repents and is Willing to Clear Up the Mess He Has Caused.
3. DANIEL WHYTE III SAYS THIS SATANIC, ABOMINABLE, HOMOSEXUAL INFILTRATION INTO THE CHURCH THAT ANDY STANLEY HAS LED COULD HAVE BEEN PREVENTED IF GOOD YOUNG PASTORS, SUCH AS THESE THREE PASTORS — VISCONTI, SIMMONS, KRUCKENBERG — AND MEN LIKE CONWAY EDWARDS AND HUNDREDS OF OTHER YOUNG PASTORS, WHO HAVE ALLOWED THEMSELVES TO BE INFLUENCED BY THE HERETIC ANDY STANLEY, AND IF THE OLDER PASTORS HAD TAKEN HEED TO THE EARLIER WARNINGS AND HAD LIFTED UP THEIR VOICES EARLIER AGAINST HERETIC ANDY STANLEY.
REGARDING ANDY STANLEY'S HERETICAL QUESTION & ANSWER SESSION WITH PASTORS AND SO-CALLED "CHURCH LEADERS" A THIRD PASTOR SAID, "I WAS THERE TOO"; PASTOR BRIAN KRUCKENBERG OF NEW CITY CHURCH IN PHOENIX, ARIZONA, CONFIRMS ANDY STANLEY'S SHOCKING HERETICAL STATEMENTS IN THE QUESTION & ANSWER SECTION OF THEIR PRIVATE PASTORS' MEETING
THREE PASTORS — RYAN VISCONTI OF GENERATION CHURCH IN MESA, LUKE SIMMONS OF REDEMPTION GATEWAY, BRIAN KRUCKENBERG OF NEW CITY CHURCH  — DROP MAJOR NUCLEAR BOMB ALLEGATIONS AGAINST ANDY STANLEY WHILE ATTENDING A PASTORS' MEET AND GREET Q & A WHERE ANDY STANLEY SUGGESTED 1. THERE IS ROOM FOR HOMOSEXUAL MARRIAGE IN THE CHURCH, 2. HE MIGHT OFFICIATE A HOMOSEXUAL WEDDING, AND 3. THAT WE SHOULDN'T TELL PEOPLE THEY NEED TO GIVE UP THEIR HOMOSEXUALITY TO FOLLOW AND REMAIN IN CHRIST. Daniel Whyte III President of Gospel Light Society International says, he believes that based upon what Andy Stanley has said for years now that he is led by Satan, will probably soon admit that he has practiced homosexuality himself because the revelations keep coming from this guy, and nearly everything he has said for years now is heresy that comes straight from hell. It is Whyte's prayer that his Protégé Conway Edwards will repent of following Andy Stanley and his false teachings and publicly denounce him as a false pastor. 
On Sept 19, 2019, Andy Stanley participated in a private dinner with several pastors in Gilbert, Arizona. Stanley was in town for a conference and after it ended, local clergy joined him for a Q&A that was not live-streamed and was closed to the public.
There, Stanley spent the next hour and a half spouting deeply troubling and unbiblical views on homosexuality, shocking other people in the room. He suggested there's room for gay marriage in the church, that he might officiate a gay wedding, and that we shouldn't tell people they need to give up their homosexuality to follow and remain in Christ.
This is according to the testimony of Ryan Visconti, the pastor of Generation Church in Mesa, Arizona, who publicly purported to be there. Ryan's testimony was confirmed by another witness, Luke Simmons, the Pastor at Redemption Gateway who was also in attendance at this clandestine event and confirmed the details.
It's now also been confirmed by another witness who was there, Pastor Brian Kruckenberg of New City Church in Phoenix, Arizona.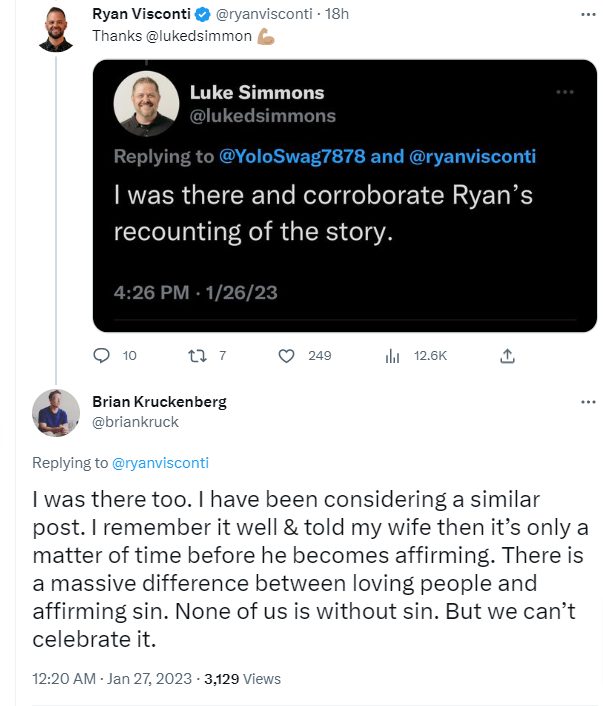 This lines up with our recent report, where we detailed how North Point Community Church openly partners with and promotes gay-affirming ministries, which are deeply entwined with his care and counselling network. When parents who have LBGTQ+ kids come in for counselling, they are not told that their kids' sexuality can be redeemed, but rather their sexuality is set in stone and must be accepted, and even celebrated. Kruckenberg continues:
Source: Protestia
To read more, click here: https://protestia.com/2023/01/27/i-was-there-too-another-pastor-confirms-andy-stanleys-shocking-gay-affirming-qa/