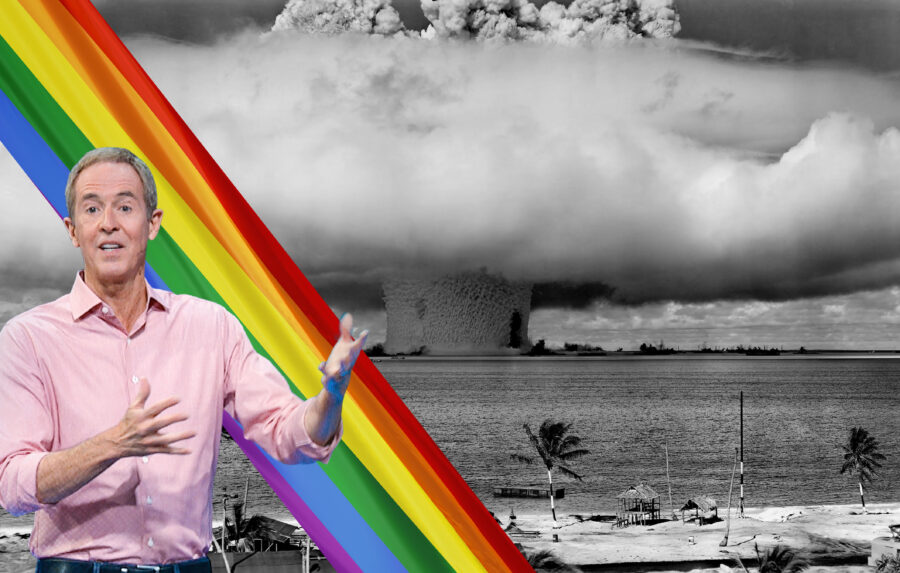 THREE PASTORS DROP MAJOR NUCLEAR BOMBSHELL ALLEGATIONS AGAINST ANDY STANLEY WHILE ATTENDING A PASTORS' MEET AND GREET Q & A WHERE ANDY STANLEY SUGGESTED 1. THERE IS ROOM FOR HOMOSEXUAL MARRIAGE IN THE CHURCH, 2. HE MIGHT OFFICIATE A HOMOSEXUAL WEDDING, AND 3. THAT WE SHOULDN'T TELL PEOPLE THEY NEED TO GIVE UP THEIR HOMOSEXUALITY TO FOLLOW AND REMAIN IN CHRIST. Daniel Whyte III President of Gospel Light Society International says, he believes that based upon what Andy Stanley has said for years now that he is led by Satan, will probably soon admit that he has practiced homosexuality himself because the revelations keep coming from this guy, and nearly everything he has said for years now is heresy that comes straight from hell. It is Whyte's prayer that his protege Conway Edwards will repent of following Andy Stanley and his false teachings and publicly denounce him as a false pastor. 
Update. A third pastor has come forward corroborating the details and the story.
Therefore whatever you have said in the dark shall be heard in the light, and what you have whispered in private rooms shall be proclaimed on the housetops. Luke 12:3.
On Sept 19, 2019, Andy Stanley participated in a private dinner with several pastors in Gilbert, Arizona. Stanley was in town for a conference and after it ended, local clergy joined him for a Q & A that was not live-streamed and was closed to the public.
There, Stanley spent the next hour and a half spouting deeply troubling and unbiblical views on homosexuality, shocking other people in the room. He suggested there's room for gay marriage in the church, that he might officiate a gay wedding, and that we shouldn't tell people they need to give up their homosexuality to follow and remain in Christ.
This is according to the testimony of Ryan Visconti, the pastor of Generation Church in Mesa, Arizona, who publicly purported to be there. Ryan's testimony was confirmed by another witness, Luke Simmons, the Pastor at Redemption Gateway who was also in attendance at this clandestine event and confirmed the details.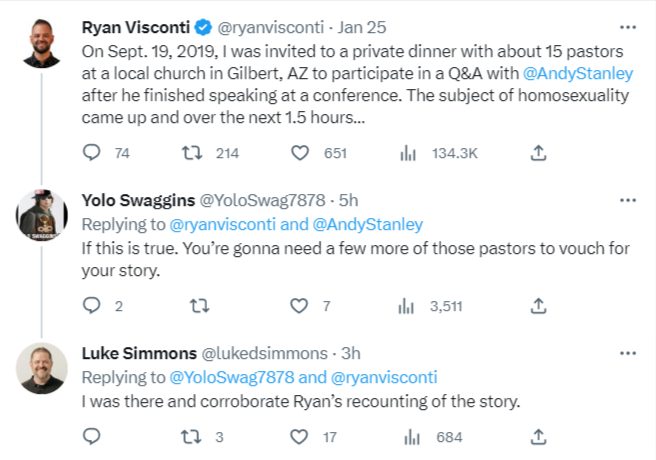 Visconti writes: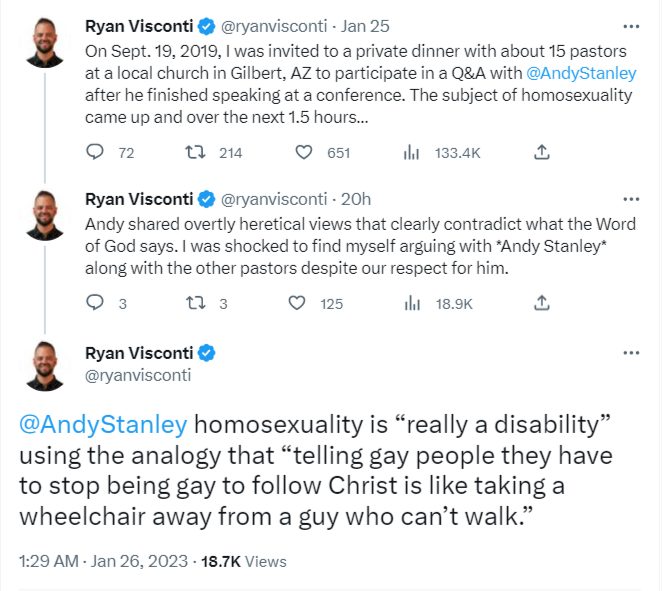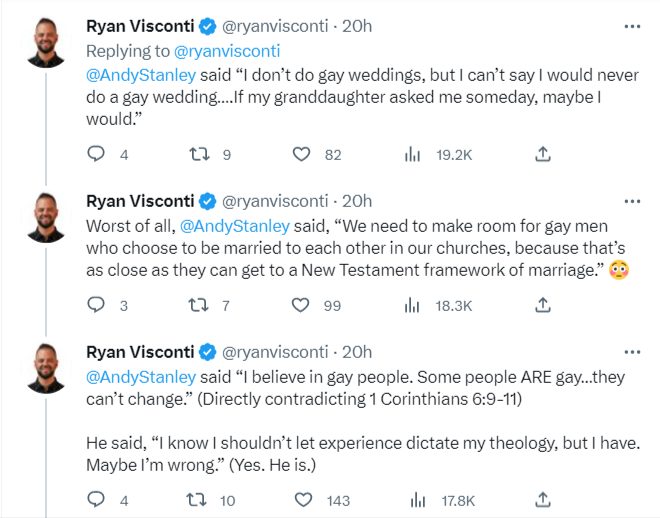 This lines up with our recent report, where we detailed how North Point Community Church openly partners with and promotes gay-affirming ministries, which are deeply entwined with his care and counselling network. When parents who have LBGTQ+ kids come in for counselling, they are not told that their kids' sexuality can be redeemed, but rather is set in stone and must be accepted.
Source: Protestia
To read more, click here: https://protestia.com/2023/01/26/two-pastors-drop-major-bombshell-allegations-against-andy-stanley-after-attending-private-qa/