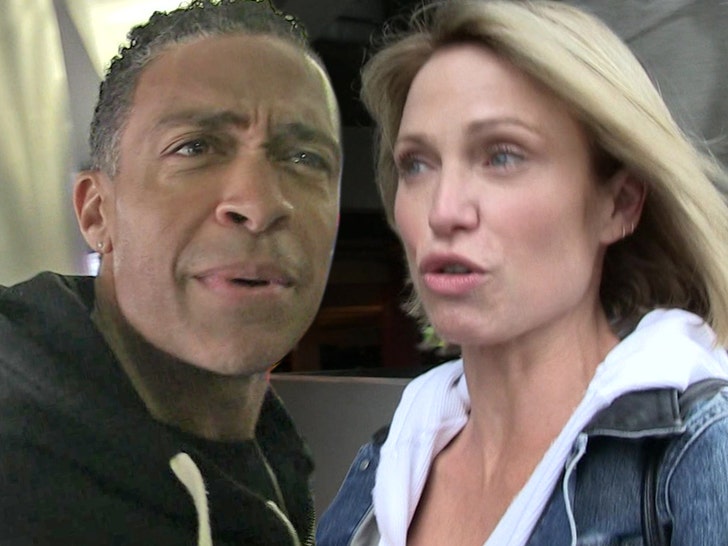 THE ADULTERER T.J. HOLMES AND THE ADULTERESS AMY ROBACH HAVE BEEN FIRED FROM ABC NEWS. WE SAY GOOD RIDDANCE! AND WE ONLY SAY GOOD RIDDANCE LIKE THAT TO YOU T.J. HOLMES AND AMY ROBACH NOT BECAUSE YOU HAVE COMMITTED ADULTERY. FOR SAD TO SAY MILLIONS OF PEOPLE ARE COMMITTING ADULTERY IN AMERICA, RIGHT NOW, EVEN IN THE CHURCH AND EVEN AT ABC, BUT TO USE THE WORDS OF GAIL KING AND ROBIN ROBERTS, YOU PEOPLE ARE "MESSY" AND T.J. HOLMES YOU WANT TO ACT LIKE YOU ARE A PLAYER AND YOU ARE NOT A PLAYER BECAUSE PLAYERS DON'T DO THE DUMB THINGS THAT YOU DID — ACTING LIKE MIDDLE SCHOOL CHILDREN. A REAL PLAYER-PLAYER WANTS THE WIFE HE IS COMMITTING ADULTERY WITH TO GO BACK TO HER HUSBAND AFTER THEY HAVE FINISHED DOING THE DIRTY DEED, AND HE KEEPS HIS WIFE AND FAMILY. IT IS STILL WRONG AND GOD WILL JUDGE YOU FOR IT, BUT IT IS NOT "MESSY" AND STUPID AND ALL IN THE FACE OF YOUR POOR SPOUSES, CHILDREN, AND CO-WORKERS. ALL OF THAT WAS NOT NECESSARY. SO GOOD RIDDANCE! WE WILL LEAVE YOU WITH THIS: "Marriage is honourable in all, and the bed undefiled: but whoremongers and adulterers God will judge." T.J. AND AMY, BELIEVE ON THE LORD JESUS CHRIST AND REPENT OF YOUR SINS. AND PLEASE, WHATEVER YOU DO, DO NOT REMARRY TO EACH OTHER FOR THEN YOU WILL BE LIVING IN ADULTERY UNTIL THE DAY YOU DIE.
2:55 PM PT — Sources with direct knowledge tell us both T.J. Holmes and Amy Robach have officially signed their exit agreements — which include compensation packages — though we don't yet know the amount.
T.J. Holmes and Amy Robach are both out at ABC … TMZ has learned.
Sources connected to the network tell us, after a marathon mediation session Thursday, ABC and the 2 'GMA3' anchors have severed ties, and both will receive payouts per their contracts.
We're told the mediation was "extremely contentious," with ABC reps accusing both Amy and T.J. of various forms of misconduct, which one source characterized as "a witch hunt."
We're told one of the accusations is that Amy had liquor in her dressing room, which the ABC folks said was a violation of policy. One source called the accusation "ridiculous," noting some of the bottles were sent from top ABC News execs. The source said those execs sent other on-air talent liquor as well, so this just looked like a way to justify getting rid of her.

We're told another accusation was that Amy went to the College Football National Championship game a year ago, and came to work the next day drunk. One source called that "insane," adding she was simply tired.
Source: TMZ
To read more, click here: https://www.tmz.com/2023/01/27/tj-holmes-amy-robach-out-leaving-gma3-abc/