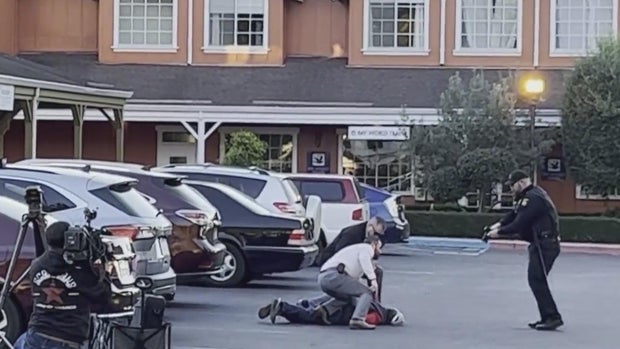 THERE IS A DEVIL LOOSE: THERE HAS BEEN MORE MASS SHOOTINGS THIS YEAR THAN THERE HAS BEEN DAYS: 3 MASS SHOOTINGS IN THE PAST FEW DAYS IN CALIFORNIA ALONE: 7 DEAD, 1 INJURED IN HALF MOON BAY MASS SHOOTING; SUSPECT IN CUSTODY; A MOTIVE IS NOT YET KNOWN
Seven people were killed in a mass shooting that spanned two separate scenes in Half Moon Bay Monday afternoon, according to the San Mateo County Sheriff's Office.
Four victims with gunshot wounds were found dead at about 2:22 p.m. at a nursery along the 12700 block of San Mateo Road (Highway 92), the sheriff's office said. Another shooting victim was taken to Stanford Medical Center with life-threatening injuries.
Shortly after that discovery, three more shooting victims were found dead at another nursery along the 2100 block of Cabrillo Highway South, according to the sheriff's office.
Authorities identified the suspect as 67-year-old Half Moon Bay resident Chunli Zhao. He was taken into custody without incident at about 4:40 p.m. after he was found in his vehicle in the parking lot of the sheriff's office substation in Half Moon Bay, the sheriff's office said. A semi-automatic handgun was found in his car.
Authorities believe Zhao acted alone, San Mateo County Sheriff Christina Corpus said. A motive for the shooting spree wasn't immediately known.
The victims are believed to be workers on the properties, Corpus said. Half Moon Bay Council member Debbie Ruddock said the victims are Chinese farmworkers.
"This is a devastating tragedy for this community and the families touched by this unspeakable act of violence," Corpus said.
A family reunification center was set up at IDES Hall, which is located at 735 Main St. in Half Moon Bay.
Source: NBCBayArea.com, Brendan Weber, Diana San Juan & Others
To read more, click here: https://www.nbcbayarea.com/news/local/peninsula/deadly-shootings-half-moon-bay/3137085/