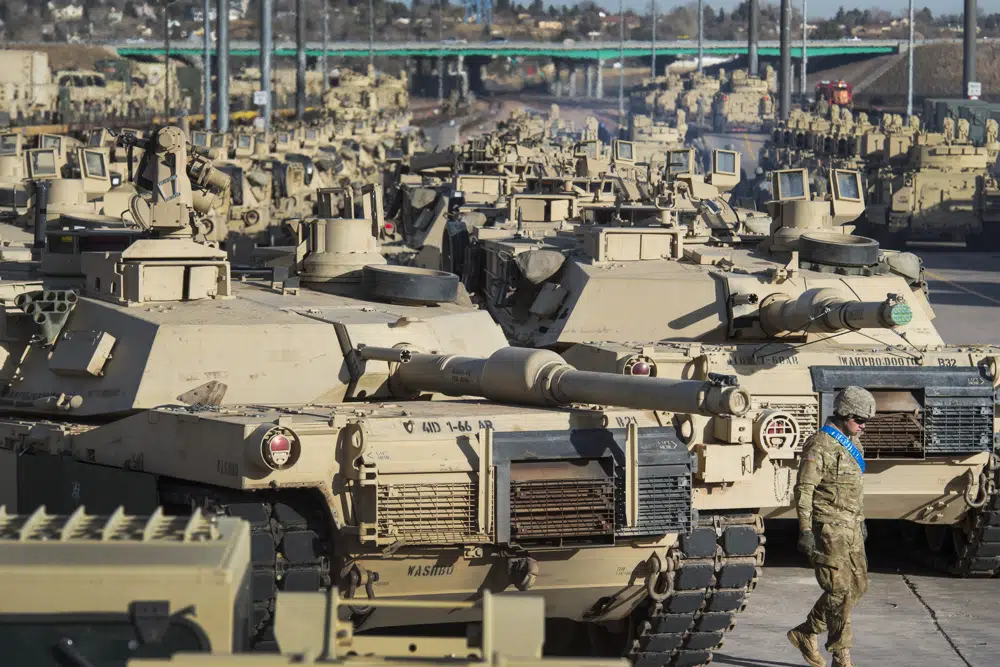 BREAKING WORLD WAR III NEWS: IN REVERSAL, U.S. BLINKS AND CHOOSES TO APPROVE ABRAM TANKS FOR UKRAINE. Daniel Whyte III President of G.L.S. International warns President Biden again, do not get in too deep just because other countries are getting in deeper, as God is not with you or America as He used to be because of the unrepentant gross sins and abominations of pastors, so-called "church leaders," and churches, and thus, the nation, and as you know, Mr. President, these sins reach even to the White House, the Congress, the Senate, and even to your house. So, Mr. President, Whyte encourages you to take his advice and humble yourself and do one of your unique big moves and pardon Trump regarding his classified documents fiasco, and it looks like you may have to pardon the upright Christian former vice-president Pence of his classified documents sin, and then let the people, Congress, and the Justice Department, in return, pardon you and forgive you, then go ahead on and finish out your term without bringing about World War III because once you get to the point of sending tanks, there is nothing else to send after that but MEN. "Do not err, our beloved" President — DON'T GET IN TOO DEEP!
In what would be a reversal, the Biden administration is poised to approve sending M1 Abrams tanks to Ukraine, U.S. officials said Tuesday, as international reluctance to send tanks to the battlefront against the Russians begins to erode. The decision could be announced as soon as Wednesday, though it could take months or years for the tanks to be delivered.
U.S. officials said details are still being worked out. One official said the tanks would be bought under an upcoming Ukraine Security Assistance Initiative package, which provides longer-range funding for weapons and equipment to be purchased from commercial vendors.
The U.S. announcement is expected in coordination with an announcement by Germany that it will approve Poland's request to transfer German-made Leopard 2 tanks to Ukraine, according to one official. The officials spoke on condition of anonymity because the decision has not yet been made public.
By agreeing to send the Abrams at an as-yet unspecified time under the assistance initiative, the administration is able to meet German Chancellor Olaf Scholz's demand for an American commitment without having to send the tanks immediately.
Much of the aid sent so far in the 11-month-old war has been through a separate program drawing on Pentagon stocks to get weapons more quickly to Ukraine. But even under that program, it would take months to get tanks to Ukraine and to get Ukrainian forces trained on them.
It's unknown how many tanks would be approved.
Until now, the U.S. has resisted providing its own M1 Abrams tanks to Ukraine, citing extensive and complex maintenance and logistical challenges with the high-tech vehicles. Washington believes it would be more productive to send German Leopards since many allies have them and Ukrainian troops would need less training than on the more difficult Abrams.
Just last week, Under Secretary of Defense for Policy Colin Kahl told reporters that the Abrams is a complicated, expensive, difficult to maintain and hard to train on piece of equipment. One thing Defense Secretary Lloyd Austin has been very focused on, he said, "is that we should not be providing the Ukrainians systems they can't repair, they can't sustain, and that they, over the long term, can't afford, because it's not helpful."
A U.S. official familiar with White House thinking said the administration's initial hesitancy was based on concerns about the requisite training and the sustainment of the tanks. The official added that the administration believes that such plans are now in place, but it could take time to implement them.
At the Pentagon, spokesman Brig. Gen. Pat Ryder said he had nothing to announce on any U.S. decision regarding Abrams tanks. But he said, "anytime that we've provided Ukraine with a type of system, we've provided the training and sustainment capabilities with that."
The administration's reversal comes just days after a coalition of more than 50 senior defense officials from Europe and beyond met in Germany to discuss Ukraine's war needs, and battle tanks were a prime topic.
Source: the Associated Press, Lolita C. Baldor and Matthew Lee also Tara Copp, Kevin Freking and Aamer Madhani
To read more, click here: https://apnews.com/article/us-m1-abrams-tanks-ukraine-russia-249de5c301a9bf83b5f3ac2182076a02