LOS ANGELES COUNTY CORONA-VIRUS PLAGUE DEATHS HIT A NEW WINTER HIGH; NEW YORK CITY ISSUES PLEA AS THE "MOST TRANSMISSIBLE FORM OF THE CORONAVIRUS PLAGUE WE KNOW OF TO DATE" SPREADS
The number of COVID-19 deaths reported weekly in Los Angeles County has hit the highest point of the season, underscoring the continued deadly risks of a disease that has ripped through the community for nearly three years.
L.A. County recorded 164 COVID-19 deaths for the seven-day period that ended Wednesday, a new high that exceeds the summer peak of 122 deaths for the week that ended Aug. 6. That tally was the worst in 10 months. The rolling weekly death tally declined slightly for the week that ended Thursday, to 163.
Source: MSN, Luke Money, Rong-Gong Lin II
To read more, click here: https://www.msn.com/en-us/health/medical/la-county-covid-19-deaths-hit-a-new-winter-high-why/ar-AA16hQRd
NYC ISSUES PLEA AS THE "MOST TRANSMISSIBLE FORM OF THE CORONAVIRUS PLAGUE WE KNOW OF TO DATE" SPREADS
In addition to being "the most transmissible" to date, NYC health officials say XBB.1.5 may also be more likely than other variants to infect people who already had COVID or have been vaccinated.
You've probably heard about the XBB.1.5 variant; it's the latest "most transmissible COVID variant yet" and appears to be better at binding to human cells, which may make it more adept at infecting
There's no evidence at this point that the strain, a combination of two prior omicron subvariants, is more lethal or more likely to cause COVID complications, but NYC health officials say XBB.1.5 may be more likely than other variants to infect vaccinated people and people who already had COVID
Nowhere is XBB.1.5 more prevalent than in the northeastern United States, according to the CDC — and rolling hospitalization and death rates, along with cases, are climbing accordingly
The unprecedented infectiousness of XBB.1.5 prompted renewed calls for public caution Friday from New York City health officials, who announced the latest omicron descendant, widely believed to be behind the latest case wave, now accounts for nearly three-quarters of all coronavirus circulating across the five boroughs.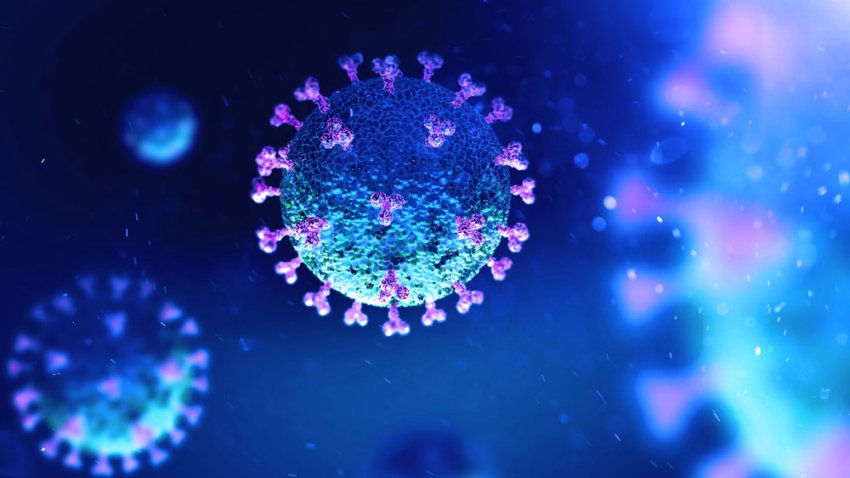 Calling the new strain "the most transmissible COVID variant we know of to date," the city's health department said XBB.1.5 is now responsible for 73% of all COVID cases sequenced in New York City. Omicron, and its litany of descendants including XBB.1.5, is the only variant of concern still currently in circulation, public health officials say.
Health data, though, only reflects sequenced cases through the first of the year, and a relatively small share of positive cases undergo the exhaustive process required to isolate variants (just 3% in the city's latest week of available data and trending downward). That means XBB.1.5's actual prevalence is likely considerably higher than reported.
According to CDC variant data updated Friday, XBB.1.5 accounts for an estimated 82.7% of COVID circulating in the New York region, which also includes New Jersey, the Virgin Islands and Puerto Rico, and could represent as many as 88.2% of cases. That's up from a 72.7% baseline estimate and 81.2% high in last week's report.
City health officials also noted that XBB.1.5 may be more likely to infect people who have been vaccinated or already had COVID — a reality that Dr. Ashish Jha, head of the White House COVID Task Force, acknowledged last week.
As Jha put it, if you haven't had COVID since July or were last vaccinated prior to the bivalent update in September, "Your protection against an XBB.1.5. infection is not that great."
Reinfection data from the state underscores the point. The 11.7 per 100,000 reinfection rate for New York City in the prior week is on par with the reinfection numbers seen during the initial omicron wave downswing in January 2022. The numbers are starkest on Long Island, with has a 15.8 per 100,000 reinfection rate, mirroring mid-January 2022.
Source:  Jennifer Millman
To read more, click here: https://www.nbcnewyork.com/news/health/covid-variant-xbb-1-5-prompts-nyc-health-department-update/4046083/