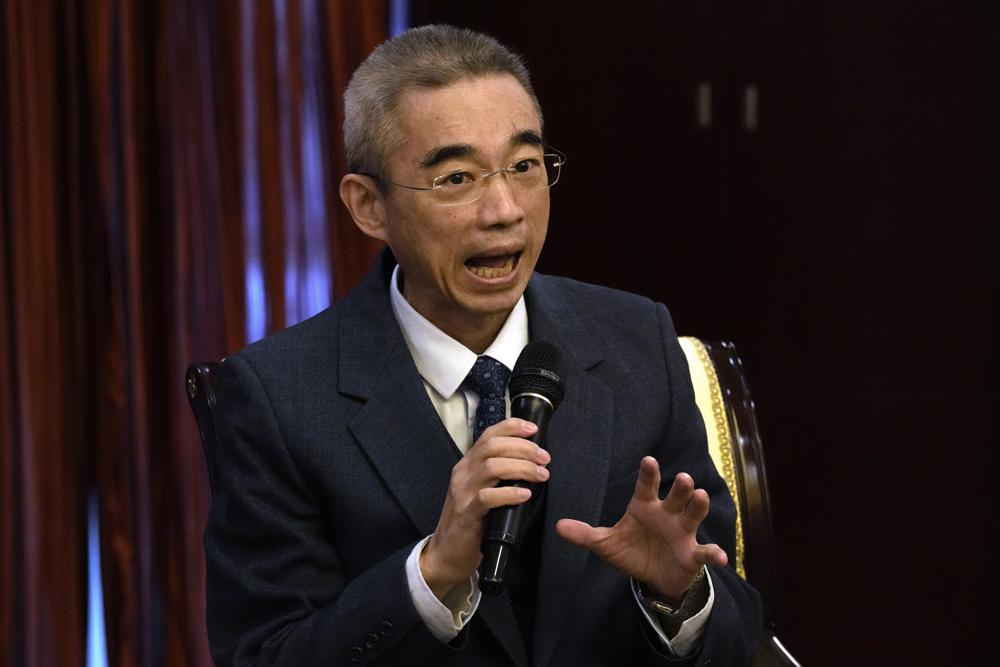 SOME COUNTRIES CLAIM CHINA IS NOT FORTHCOMING WITH ACCURATE INFORMATION REGARDING THE TRAGIC CORONAVIRUS PLAGUE SURGE GOING ON RIGHT NOW IN CHINA, WHICH IS CAUSING MAJOR GLOBAL CONCERN. SOME SAY THE CORONAVIRUS PLAGUE COULD TURN OUT TO BE WORSE THAN 2020. Daniel Whyte III President of Gospel Light Society International says that he has continued preaching the Gospel and the Word of God nearly each day for nearly seven years in March 2023 because he knew the coronavirus plague was not going to go away as the Bible refers to this plague as a "PLAGUE OF LONG CONTINUANCE" because the people in the church will not repent of their sins and abominations: their sins of adultery, swinging, fornication, homosexuality, and for colluding with the government and the world to condone and sanction homosexuality and homosexual marriage, and all of the other demonic activities that go with it such as: transgenderism, drag queens reading demonic books to children in the libraries, etc. Throughout these past three years since the coronavirus plague hit, Whyte has constantly being led of the Lord to continue to warn people that the coronavirus plague is not over and that other plagues such as monkeypox, has been added because God's people, who are called by His name, won't repent. You might recall the coronavirus plague did not just start in March 2020; it actually started in December 2019. People were getting sick and dying then, but they did not know what it was. Take heed to this warning and protect yourselves from this on toward generation in many ways.
Moves by several countries to mandate COVID-19 tests for passengers arriving from China reflect global concern that new variants could emerge in its ongoing explosive outbreak — and that the government may not inform the rest of the world quickly enough.
There have been no reports of new variants to date, but China has been accused of not being forthcoming about the virus since it first surfaced in the country in late 2019. The worry is that it may not be sharing data now on any signs of evolving strains that could spark fresh outbreaks elsewhere.
The U.S., Japan, India, South Korea, Taiwan and Italy have announced testing requirements for passengers from China. The U.S. cited both the surge in infections and what it said was a lack of information, including genomic sequencing of the virus strains in the country.
Authorities in Taiwan and Japan have expressed similar concern.
"Right now the pandemic situation in China is not transparent," Wang Pi-Sheng, the head of Taiwan's epidemic command center, told The Associated Press. "We have a very limited grasp on its information, and it's not very accurate."
The island will start testing everyone arriving from China on Jan. 1, ahead of the expected return of about 30,000 Taiwanese for the Lunar New Year holiday later in the month. The new Japanese rules, which restrict flights from mainland China, Hong Kong and Macao to designated airports beginning Friday, are already disrupting holiday travel plans.
Chinese Foreign Ministry spokesperson Wang Wenbin noted Thursday that many countries have not changed their policies for travelers from China and said that any measures should treat people from all countries equally.
Source: the Associated Press, KEN MORITSUGU and HUIZHONG WU
https://apnews.com/article/health-china-disease-outbreaks-covid-19-pandemic-guangzhou-01318eb4fc58a0515d8e8bd1577e385d