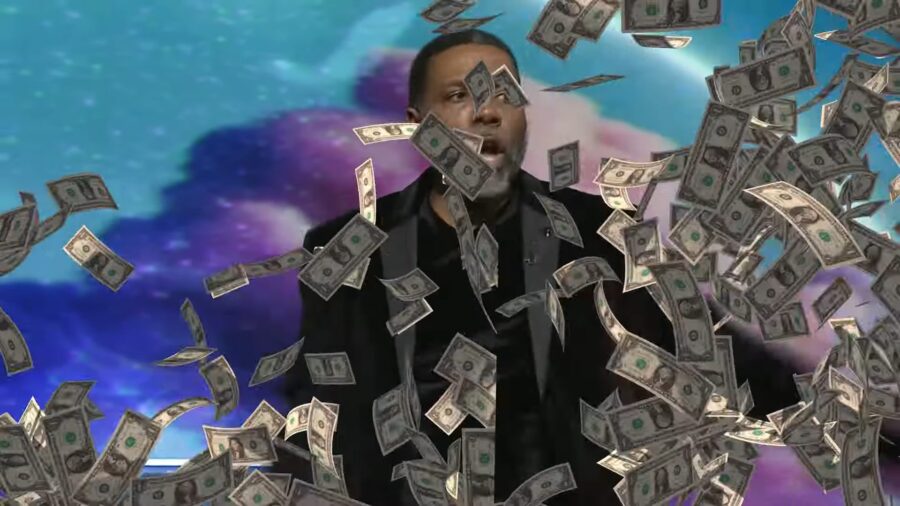 CREFLO DOLLAR FALSELY PROPHESIES AT THE END OF 2021 THAT HE HAD A WORD FROM GOD SAYING THAT 2022 WOULD BE A BOUNTIFUL YEAR WHERE THE GREATEST MOVE OF GOD THE WORLD HAS EVER SEEN WILL TAKE PLACE, AND THAT THE ENEMIES OF GOD WOULD REPENT AND GET SAVED BECAUSE OF HOW MUCH GOD WILL BLESS THEM FINANCIALLY. THE TRUTH IS 2022 HAS BEEN ONE OF THE WORST YEARS FOR MOST PEOPLE, INCLUDING MOST CHURCH PEOPLE.
Daniel Whyte III president of Gospel Light Society International, tells Creflo Dollar after the Coronavirus plague, which is still ongoing because it is a "plague of long continuance," other plagues have been added, such as the monkey pox plague and the economic plague, etc., as rebuke and chastisement upon pastors and churches including you and your church, because of the sins and abominations of the church, including the sin and false teaching of the prosperity gospel that has misled and destroyed millions of people's lives and families, and because of this rebuke and chastisement of the Lord, we believe you were moved to offer an apology for your false teaching in the past; you even said that "people should throw away your books" and we at BCNN1 even said God was working in your heart and we told your critics to leave you alone while that was happening; so, therefore, do not listen to your mentor Kenneth Copeland and money-hungry men and silly-minded women to push you back into the bull-sheep of the prosperity gospel. You know that's not you anymore. You are a better man than that, and you need to separate from your mentor Kenneth Copeland, and set out on your own and tell people the truth and stop preaching this false prosperity gospel foolishness and preach the Truth of the Word of God, for God's glory and for the lifting up of Jesus Christ. Don't forget the pain of the rebuke and chastisement of the Lord from the coronavirus plague or things will get worse.
Creflo Dollar is one of the most infamous and successful prosperity preachers ever, joining such men as Benny Hinn and Kenneth Copeland as the trio of arch-heretics most responsible for exporting the false prosperity gospel throughout the world.
A televangelist and pastor of the 30,000-member World Changers Church International (WCCI) in Atlanta, he's known for his wealth and extravagant lifestyle, owning several multi-million dollar homes, expensive luxury cars, being a proponent of "little gods' theology, and making headlines back in 2015 when he asked followers and supporters to fund his purchase of a $65,000,000 private jet. We wrote about him a few weeks ago after he urged his whole church to vote for Stacey Abrams as governor after she visited his church.
At the end of 2021, he preached a sermon where he claimed to have a word from God, prophesying that 2022 would be a bountiful year where the greatest move of God the world has ever seen will take place, and that enemies of God would repent and get saved because of how much God will bless them financially. (How did that turn out?)
"Here's what the Lord said to me, he says "I am about to release the beginnings of the manifestations of a move of God on the earth like has never been seen. I'm gonna cause the wicked to turn to me. Imma cause the devil worshipper to turn to me. I'm gonna break the yoke of those who have been deceived by the devil to turn to me.
"And I said, 'Well Lord, how are you gonna do that?' He says 'I'm about to show people who don't deserve my goodness my goodness. But for you who know me and for you who fellowship with me and claim me…if you believe for the goodness you are going to show that there is profit in serving God and these last days, amen?"
Dollar asks "how is God going to change the mind of that atheists? How is God going to save that family member in your family?" and then quotes Romans 2:4 "Or despisest thou the riches of his goodness and forbearance and longsuffering; not knowing that the goodness of God leadeth thee to repentance?" Based on this, he offers this theory:
Source: Protestia
To read more, click here: https://protestia.com/2022/12/15/creflo-dollar-falsely-prophesies-people-will-be-saved-because-of-how-rich-god-makes-them/