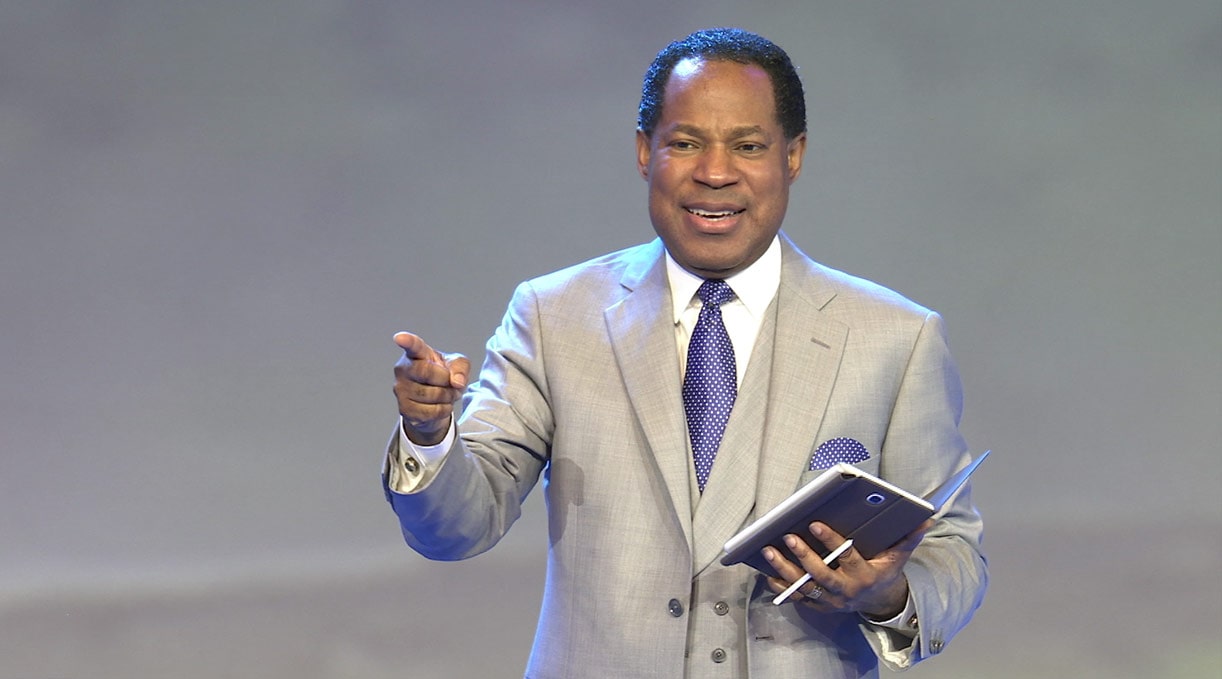 PASTOR CHRIS OYAKHILOME, PASTOR OF CHRIST EMBASSY IN LAGOS, NIGERIA, HAS ACCUSED PASTOR SUNDAY ADELAJA, PASTOR OF EMBASSY OF THE BLESSED KINGDOM OF GOD FOR ALL NATIONS IN KYIV, UKRAINE, OF "CRITICIZING HIM" AND BECAUSE OF THAT HE STRANGELY SAYS THE RUSSIA-UKRAINE WAR IS NOT ABOUT PUTIN, ZELENSKYY, OR EVEN THE UNITED STATES, IT IS BECAUSE PASTOR SUNDAY ADELAJA CRITICIZED HIM (PASTOR CHRIS OYAKHILOME). HE THEN QUOTED PSALM 105:15 FROM THE BIBLE: "TOUCH NOT MINE ANOINTED, AND DO MY PROPHETS NO HARM." Daniel Whyte III, president of Gospel Light Society International, says, this is the kind of foolishness that was going on before God began to rebuke and chastise the church through the coronavirus plague for her sins of adultery, fornication, divorce and remarriage without biblical grounds, homosexuality, homosexual marriage and allowing homosexuals to become members of the church, false prosperity gospel preachers and pastors who were more concerned about money, material things, prestige, and power than preaching the unadulterated Gospel and the Word of God. Self-important and self-appointed "pastors," "preachers," and "prophets" use this important and powerful verse to keep people from rebuking them for their sins and evil ways when in truth, in most cases, the preacher doing the criticizing or the preacher being criticized is neither appointed, anointed, or a true prophet, but a WOKE prosperity gospel charlatan, who thinks and acts like he is more important than the people in his church, which is not the case. A true man of God, a true prophet, does not have to use this verse to defend himself, for the people who falsely accuse him or do him harm will find out from God the hard way not to do that again.
There is a rumor in Nigeria among Christians that God brought war to Ukraine as a punishment on the land for the sin of Pastor Sunday Adelaja, the senior pastor of Embassy of the Blessed Kingdom of God For All Nations, for criticizing Pastor Chris Oyakhilome, who is the pastor of Christ Embassy. Many of us were worried about how such blasphemy can be spoken against God by those who are supposedly called by His name.
When I investigated to find out the source of this rumor, I stumbled upon a video clip where Pastor Chris Oyakhilome was addressing his congregation. According to him,
"Just about two years ago, Ukraine was one of the most beautiful cities where God was doing amazing work for the Gospel, there was a minister of the Gospel there that God was using mightily. In fact, he was the pastor of the largest church in Europe."
He went down memory lane and told his congregants about his encounter with Pastor Adelaja many years ago.
He went further to tell them how Pastor Adelaja started criticizing him and how the war in Ukraine broke out because of the criticism.
Sunday Adelaja, the senior pastor of Embassy of the Blessed Kingdom of God For All Nations
"But just in the last few years I started hearing that he left his ministry to set up a ministry on Pastor Chris.  All he could think about was every evil thing that he could say about Pastor Chris.  I heard about it and said, 'Lord! What is the matter with him? What is he doing? How could he leave aside the beautiful ministry that you gave him and descend on Pastor Chris?' Incidentally, everything he was saying about Chris was a lie! And the Lord said, 'Leave him alone! He has corrupted his ways.'"
Source: CP, Oscar Amaechina
To read more, click here: https://www.christianpost.com/voices/the-ukraine-war-and-pastors-weaponizing-touch-not-my-anointed.html