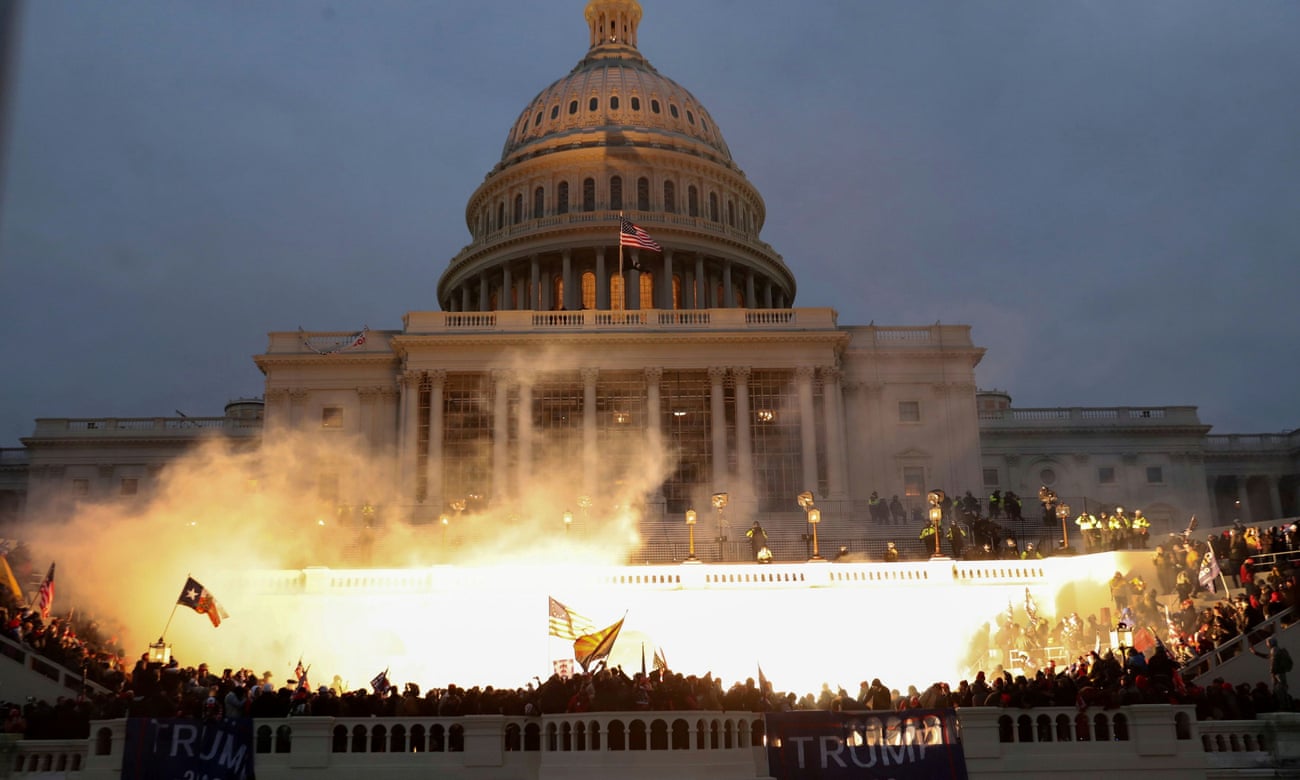 IS AMERICA CLOSE TO HER 2ND CIVIL WAR?
Nearly half of Americans fear their country will erupt within the next decade. Ahead of the midterm elections this week, three experts analyse the depth of the crisis.
Americans are increasingly talking about civil war. In August, after the FBI raided Donald Trump's Florida home, Twitter references to "civil war" jumped 3,000%. Trump supporters immediately went online, tweeting threats that a civil war would start if Trump was indicted. One account wrote: "Is it Civil-War-O'clock yet?"; another said, "get ready for an uprising". Lindsey Graham, a Republican senator from South Carolina, said there would be "riots in the streets" if Trump was indicted. Trump himself predicted that "terrible things are going to happen" if the temperature wasn't brought down in the country. Perhaps most troubling, Americans on both sides of the political divide increasingly state that violence is justified. In January 2022, 34% of Americans surveyed said that it was sometimes OK to use violence against the government. Seven months later, more than 40% said that they believed civil war was at least somewhat likely in the next 10 years. Two years ago, no one was talking about a second American civil war. Today it is common.
Are America's fears overblown? The most frequent question I get asked following my book How Civil Wars Start: And How to Stop Them is whether a civil war could happen again in the US. Sceptics argue that America's government is too powerful for anyone to challenge. Others argue that secession will never happen because our country is no longer cleanly divided along geographic lines. Still others simply cannot believe that Americans would start killing one another. These beliefs, however, are based on the mistaken idea that a second civil war would look like the first. It will not.
If a second civil war breaks out in the US, it will be a guerrilla war fought by multiple small militias spread around the country. Their targets will be civilians – mainly minority groups, opposition leaders and federal employees. Judges will be assassinated, Democrats and moderate Republicans will be jailed on bogus charges, black churches and synagogues bombed, pedestrians picked off by snipers in city streets, and federal agents threatened with death should they enforce federal law. The goal will be to reduce the strength of the federal government and those who support it, while also intimidating minority groups and political opponents into submission.
We know this because far-right groups such as the Proud Boys have told us how they plan to execute a civil war. They call this type of war "leaderless resistance" and are influenced by a plan in The Turner Diaries (1978), a fictitious account of a future US civil war. Written by William Pierce, founder of the neo-Nazi National Alliance, it offers a playbook for how a group of fringe activists can use mass terror attacks to "awaken" other white people to their cause, eventually destroying the federal government. The book advocates attacking the Capitol building, setting up a gallows to hang politicians, lawyers, newscasters and teachers who are so-called "race traitors", and bombing FBI headquarters.
Pages of The Turner Diaries were found in Timothy McVeigh's truck after he attacked a federal building in Oklahoma City in April 1995. Patrick Crusius, the alleged El Paso Walmart gunman, and John Timothy Earnest, the accused shooter at a synagogue in Poway, California, echoed the book's ideas in their manifestos. A member of the Proud Boys can be seen on video during the insurrection on 6 January 2021 telling a journalist to read The Turner Diaries.
Source: the Guardian
To read more, click here: https://www.theguardian.com/us-news/2022/nov/06/how-close-is-the-us-to-civil-war-barbara-f-walter-stephen-march-christopher-parker