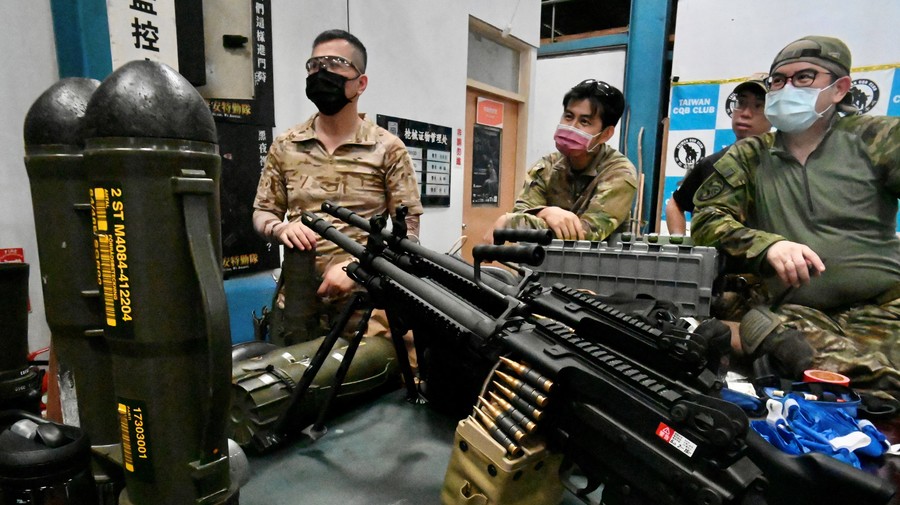 TAIWAN IS NOT READY FOR CHINA and BIDEN AND THE U.S. SHOULD NOT MAKE PROMISES TO TAIWAN THAT THEY SHOULD NOT MAKE and that THEY ARE NOT READY TO FULFILL and WILL NOT KEEP. These Taiwanese Men Were Trained to Defend Taiwan From China; however, They Aren't Sure They Can. Daniel Whyte III Says, This is not the mentality that you need to have when you are facing a nuclear power a hundred times bigger than you. Taiwan cannot have a "summer camp" mentality against China. Whyte tells President Tsai Ing-wen and the Taiwanese people, with love, be wise; do not poke the bear because you will be the next Ukraine trying to defend yourself by yourself with nations sending you weapons instead of fighting alongside you. Many of you are Christians. Start praying, and practice humility.
Cheng Yi, 28, remembers his four months of mandatory military service in Taiwan as a pretty laid-back experience. "It was really basic stuff," he said, recalling the summer-camp atmosphere with morning runs and pushups. He was among the civilians trained to defend Taiwan against China.
He did learn how to take apart a gun and put it back together. But when it came to actually using it, training was limited. "Everyone got six bullets" on each trip to the shooting range, he said.
Cheng wouldn't hesitate to pick up a gun again if he was ever called to fight, he said, but the 2014 stint in the military did not leave him prepared. "I'm not really good at shooting."
Civilians trained to defend Taiwan against China.
Source: Vice.com, Melissa Chang
To read more, click here: https://www.vice.com/en/article/m7gp7v/taiwan-defense-china-invasion-conscripts