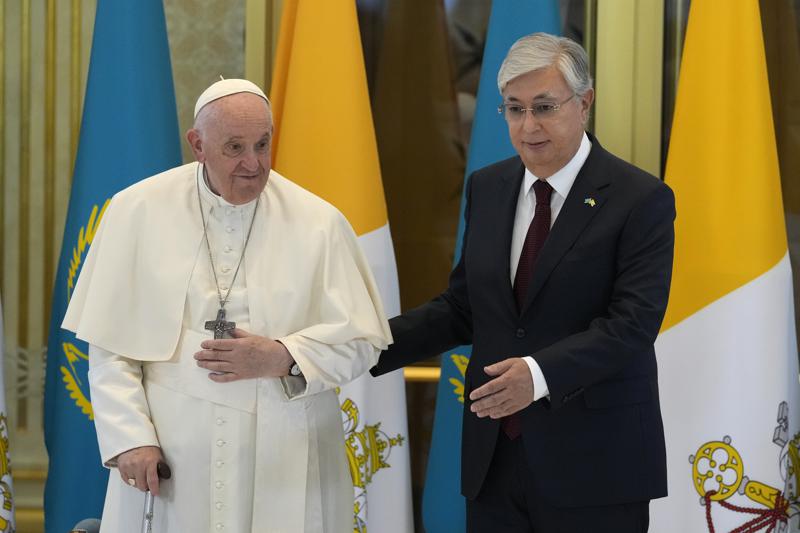 POPE FRANCIS Urges End to "SENSELESS" War
Pope Francis begged for an end to Russia's "senseless and tragic war" in Ukraine as he arrived Tuesday in the former Soviet republic of Kazakhstan to join faith leaders from around the world in praying for peace.
Francis flew to the Kazakh capital of Nur-Sultan to meet with President Kassym-Jomart Tokayev for an official state visit portion of his three-day trip. On Wednesday and Thursday, he participates in a government-sponsored triennial interfaith meeting, which is gathering more than 100 delegations of Muslim, Christian, Jewish, Buddhist, Shinto and other faith groups from 50 countries.
The 85-year-old Francis made the trip despite what appeared to be an aggravation of the strained knee ligaments that have greatly reduced his mobility all year. Francis struggled to walk through the aisle of the aircraft during the 6.5-hour flight from Rome, and he appeared tired and in pain as he limped heavily with his cane, ceding to a wheelchair for most events once in town. Doctors have told him that for the time being, any further travel — to Kyiv, for example — is out of the question.
Source: the Associated Press, NICOLE WINFIELD and KOSTYA MANENKOV
To read more, click here: https://apnews.com/article/russia-ukraine-pope-francis-china-kazakhstan-a73b592396e8220479588f562bdda031