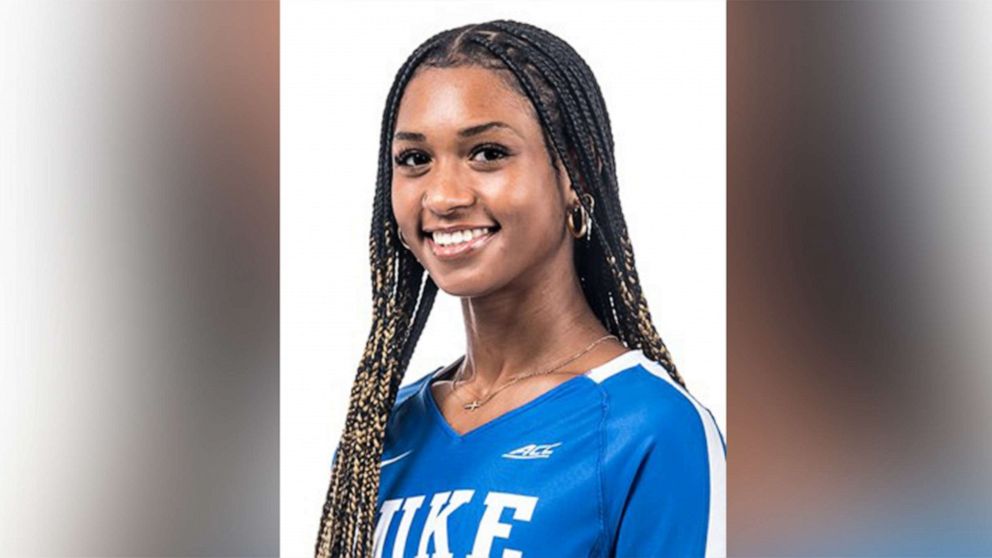 A Duke University women's volleyball player targeted by a fan using hateful, racial slurs while playing a game against Brigham Young University calls the incident an "opportunity" to curate a healthy environment for Black people in collegiate athletics.
Rachel Richardson, a sophomore at Duke, said she's not angered by the situation that occurred at last Friday's game, but would rather show compassion and educate people using her platform to spread awareness for similar incidents in the future.
"I'm not the first person, I'm not the last person," Richardson told ABC News Tuesday. "This isn't an isolated incident, but it's an opportunity for not just me, but for anyone who has an opinion, anyone who has a voice to decide that it should be the last time."
Richardson heard the slur "every time she served," according to former Texas county prosecutor Lesa Pamplin, who is running for county judge and said Richardson is her goddaughter in a tweet posted on Saturday.
"She was threatened by a white male that told her to watch her back going to the team bus. A police officer had to be put by their bench," Pamplin tweeted. "Not one freaking adult did anything to protect her."
Richardson didn't condemn BYU for this incident, but singled out the alleged perpetrator.
"I know a lot of times when things like this happen, the perpetrators are met with anger. And that's not what I want to happen in this moment," Richardson said. "I don't think that all of BYU should be condemned because grouping all of BYU together with the few students or non-students that were doing it would be the same thing that those people did to me, like viewing all Black people as less than. And I don't want to sit down to a level."
Click here to read more.
SOURCE: ABC News, Victoria J. Arancio and Erica Y King