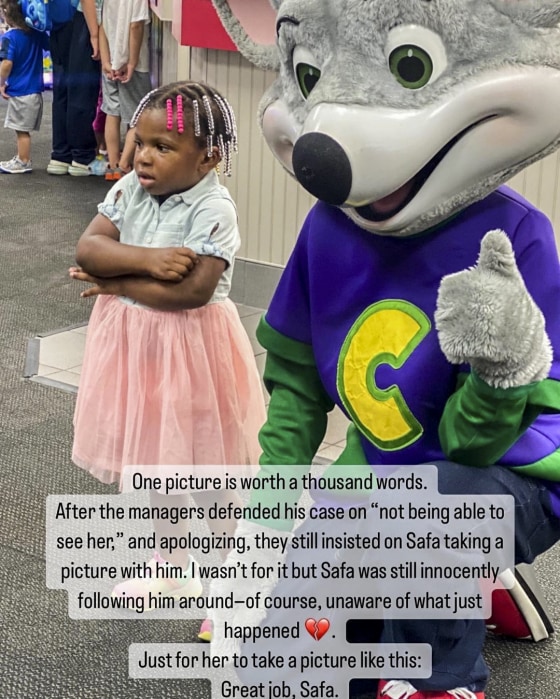 Chuck E. Cheese said it was "saddened" after the family of a 2-year-old child said the company's mascot ignored their child at a birthday party.
Natyana Muhammad, 29, posted a video of her 2-year-old daughter, Safa, jumping up and down as the character walks out into the entertainment area at a Chuck E. Cheese location in Wayne, N.J. The mascot gives several children, who all appear to be white, high fives, before apparently ignoring a Black child who stuck her hand out for a high five as well.
Muhammad told NBC News her daughter had never seen Chuck E. Cheese in person before, and that she wanted to get Safa's reaction on camera. When the mascot appeared to ignore her daughter, Muhammad said she stopped recording.
"I actually tapped Chuck E. on his arm to let him know that Safa was standing right there, and he ignored me," Muhammad told NBC News.
Muhammad said a manager eventually pushed the mascot to their table, but the mascot did not apologize. Muhammad said the manager told her the mascot had not seen her child, and that another manager wanted to arrange a photo op with Chuck E. Cheese, but Safa was clearly upset by the situation.
PLEASE RETWEET‼️ On July 30 at Chuck E Cheese in Wayne, NJ, my 2yo was racially discriminated against. As you can see, he gives all of the yt kids hi-5s & PURPOSELY ignored my black baby. When confronted, he ignored me as well. The manager, Angie Valasquez, made excuses for him.. pic.twitter.com/QMmE3wmti1

— Umm Safa 🩰 (@belllahijabi) July 31, 2022
https://platform.twitter.com/widgets.js
Click here to read more.
SOURCE: TODAY, Anna Kaplan and Rania Soetirto