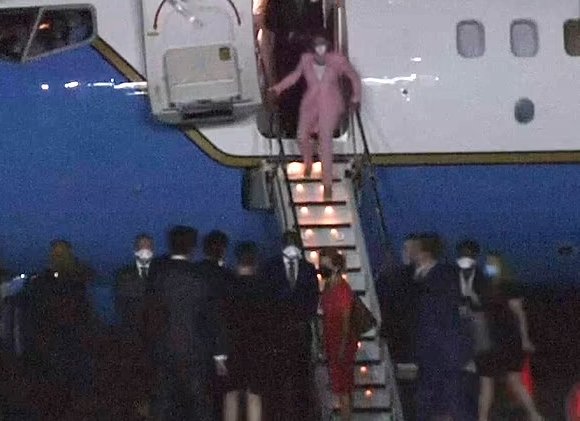 TAIPEI, Taiwan — House Speaker Nancy Pelosi (D-Calif.) arrived in Taiwan late Tuesday, defying Chinese warnings against visiting the self-ruled island that Beijing claims as its territory and setting the stage for a sharp escalation in tensions between China and the United States.
Pelosi's plane landed at Songshan airport in Taipei just before 11 p.m. local time. Wearing a face mask, she was greeted by Taiwan's foreign minister, Joseph Wu, and staff from the American Institute in Taiwan (AIT), the de facto U.S. embassy in Taipei.
Pelosi's visit has enraged China, which for years has sought to diplomatically isolate the island and views such exchanges with high-level foreign dignitaries as support for Taiwanese independence. The Chinese Communist Party claims Taiwan, a self-governing democracy that is home to 23 million people, as its territory despite never having ruled it. Chinese leader Xi Jinping has pledged to "reunify" Taiwan with China by force if necessary.
Just after Pelosi's arrival, China's official Xinhua News Agency released an announcement from the People's Liberation Army that "important military training operations" and live ammunition drills would take place in six areas surrounding Taiwan between Thursday and Sunday — after the House speaker's visit.
China's Ministry of Foreign Affairs denounced the visit as "a serious violation of the one-China principle and the provisions of the three China-U.S. joint communiqués," adding, "China firmly opposes and sternly condemns this, and has made serious démarche and strong protest to the United States."
Click here to read more.
Source: MSN