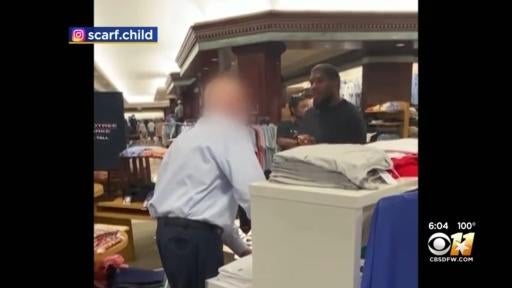 It was hate caught on tape.
Over the past several days, video of a North Texas father calmly confronting a Dillard's clerk at Dallas' NorthPark Center has gone viral – viewed more than a million times and counting. The clerk, witnesses confirmed, hurled a racial slur at the man's 10-year-old son.
"I ask the question: what could he have done? What could the 10-year-old do to Homer to deserve to be called a 'f****** n*****?'"
Muhammad Karim, the child's father, doesn't really expect an answer, but he wants the world to ponder, "Why is there so much hate?"
He says his family lives a quiet life in Johnson County running a small catering business and restaurant. The trip to the NorthPark Dillard's should have been a break from the heat.
He asked a clerk who said his name was Homer for directions to a dressing room. He returned to find his son in tears. "A tear came out my baby's eye and he said, 'Dad, you didn't hear what that man just called me?'" shares Karim.
After questioning his son and others who overheard the slur, Karim remained calm. He can be heard on the video telling that clerk that he would never have so disrespected the clerk's family, and that he is a man of "grace and honor."
Click here to read more.
SOURCE: CBS News, Robbie Owens