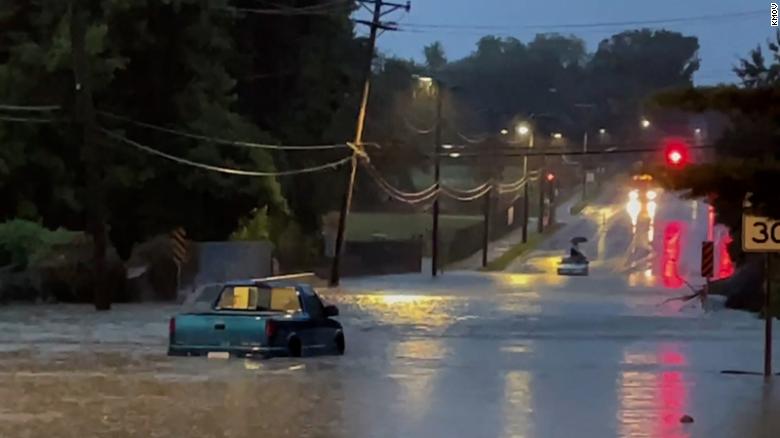 Torrential and record-breaking rainfall caused widespread flash flooding in the St. Louis area Tuesday morning, killing at least one person, forcing rescues of people trapped in vehicles and homes, and spurring road closures including on part of Interstate 70, officials said.
In St. Louis itself, more than 8 inches of rain had fallen from midnight to 7 a.m. CT — already surpassing the city's all-time one-day record of 6.85 inches set on August 20, 1915, the National Weather Service said.
In the wider St. Louis area, about 6 to 10 inches of rain fell from midnight to 6 a.m., according to the weather service. More rain was forecast, though it was expected to taper off late in the morning and end by mid-afternoon, the weather service's office in St. Louis wrote.
One person was found dead in a vehicle that had become stuck in "approximately eight and a half" feet of water in western St. Louis, city Fire Chief Dennis Jenkerson said. Authorities checked the vehicle after a caller reported that someone may be inside, and found the body when waters receded, the chief said.
Floodwater surrounded vehicles on other St. Louis-area streets and crept up to apartments and other buildings, videos on social media showed.
Click here to read more.
SOURCE: CNN, Jason Hanna, Caroll Alvarado and Raja Razek