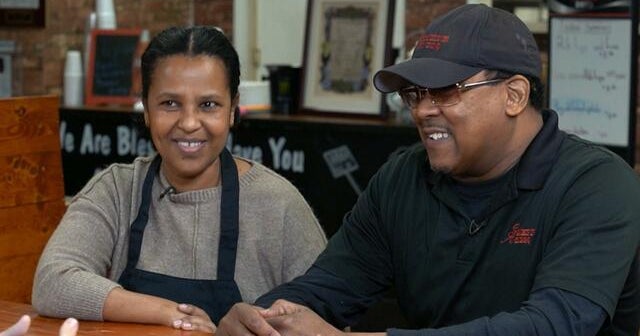 You might not think Ethiopian and Texan cuisine would mix, but when couple Fasicka and Patrick Hicks combined their recipes, they created an international sensation.
Their restaurant, Smoke N Ash, is in a small strip mall in Arlington, Texas, and has everything that would be expected to be found in a barbecue place—like ribs and brisket.
The blend of Southwest U.S and East Africa is deliciously unique and represents their own roots.
Patrick Hicks is a born-and-bred Texan from Waco. Fasicka Hicks is from Addis Ababa, the capital of Ethiopia. They met in 1997 after she immigrated to Texas.
Both of them liked to cook, and Patrick's barbecue became a favorite of Fasicka's Ethiopian family. Seeing her family's delight gave Fasicka an idea.
"And I was tellin' him, 'Hey, you know what? We can make money sellin' this food.' So, we bought a trailer and made some extra money on the weekends. Before we know it, we start forming lines because people look forward to our cooking every weekend," Fasicka recalled.
Click here to read more.
SOURCE: CBS News