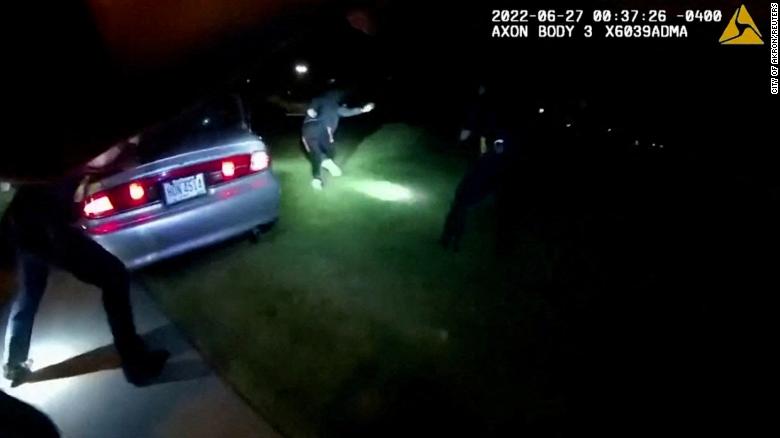 The decision by Ohio police officers to handcuff Jayland Walker after they fired dozens of shots, killing the unarmed 25-year-old at the end of a high-speed chase, has come under intense scrutiny by Walker's family and the public, as they continue to demand answers and accountability from city officials.
Walker, who suffered more than 60 gunshot wounds after eight officers fired at him June 27 in Akron, had his hands cuffed behind his back when his body arrived at the coroner's office, according to photos from a preliminary medical examiner's report reviewed by CNN. He died from gunshot wounds to the face, abdomen and upper legs, CNN affiliate WEWS reported, citing an investigative worksheet reviewed by its partner, the Akron Beacon Journal.
The police decision to handcuff Walker after he had been shot was an "added insult to a terrible loss," Walker family attorney Bobby DiCello told CNN Saturday. Walker's family "can't fathom these so-called reasons for safety when they know that Jayland suffered so much injury and lethal force."
"It's bewildering. It sends a symbolic and inhumane message despite the procedure that is involved," DiCello said, adding the incident raises a critical question about what extent compassion comes into play when police officers decide to handcuff someone who had been shot dozens of times.
"If nobody thought he needed to be handcuffed, then why not just out of respect for the loss of human life, avoid it?" DiCello added.
Click here to read more.
SOURCE: CNN, Emma Tucker