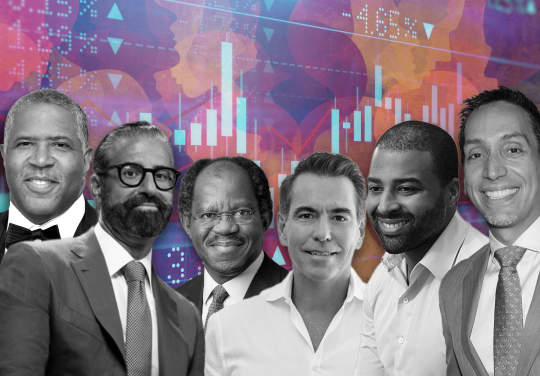 In February, private equity firm Clearlake Capital Group purchased Endurance International for $3 billion and merged it with Web.com, which had been bought for $2 billion by another private equity firm, Siris Capital. On the surface, the resulting internet technology platform, Newfold Digital, was just another roll up of the Wall Street machine and immediately started gobbling up other companies.
But the deal underscored a quiet shift that has been taking place in the $6 trillion private equity industry. Both the firms backing Newfold Digital were built by people of color. Clearlake is run out of Santa Monica, Calif., by José E. Feliciano, who was born and raised in Puerto Rico, and Behdad Eghbali, who showed up in the U.S. as a child on a tourist visa with his family that was escaping Iran. Siris Capital's main owner and chief is Frank Baker, who is African American and based in southern Florida.
Both firms have taken Wall Street by storm. In the last two years, Clearlake has nearly quadrupled its assets under management to $72 billion and is arguably the fastest-growing big firm in the industry. Clearlake was uniquely built in 2006 to focus on technology companies, and the oil and gas sector. It recently teamed up with billionaire Todd Boehly to buy the English Premier League's Chelsea FC. Siris targets legacy technology companies and manages a sizable $7 billion.
For decades, private equity has been atop the Wall Street food chain, run by billionaires who are sometimes referred to as "the Masters of the Universe." They established firms like KKR KKR, +4.70%, Blackstone Group BX, +5.91%, the Carlyle Group CG, +3.68% and Apollo Global Management APO, +4.12%, and their founders were almost always white. But a rapid change has come to the private equity industry as a group of racially diverse financial entrepreneurs have built the biggest and best new firms in the business. Their rise has been fast and stunning.
Orlando Bravo, who lives in Miami, became the first Puerto Rican billionaire as founder of Thoma Bravo, a private equity firm that now boasts $103 billion in assets under management, while Robert Smith became the nation's wealthiest Black person by founding and running Vista Equity Partners, which oversees $93 billion. Adebayo "Bayo" Ogunlesi, a Nigerian who now calls New York home, is the founder and chairman of Global Infrastructure Partners, which manages $81 billion. Billionaire Ramzi Musallam, a Palestinian who was born in Jordan, controls Veritas Capital in New York with $40 billion. Combined with Clearlake and Siris, these American firms manage nearly $400 billion and represent the most powerful investment operations to emerge on the private equity stage over the last decade.
Click here to read more.
SOURCE: The Wall Street Journal, Steve Gelsi