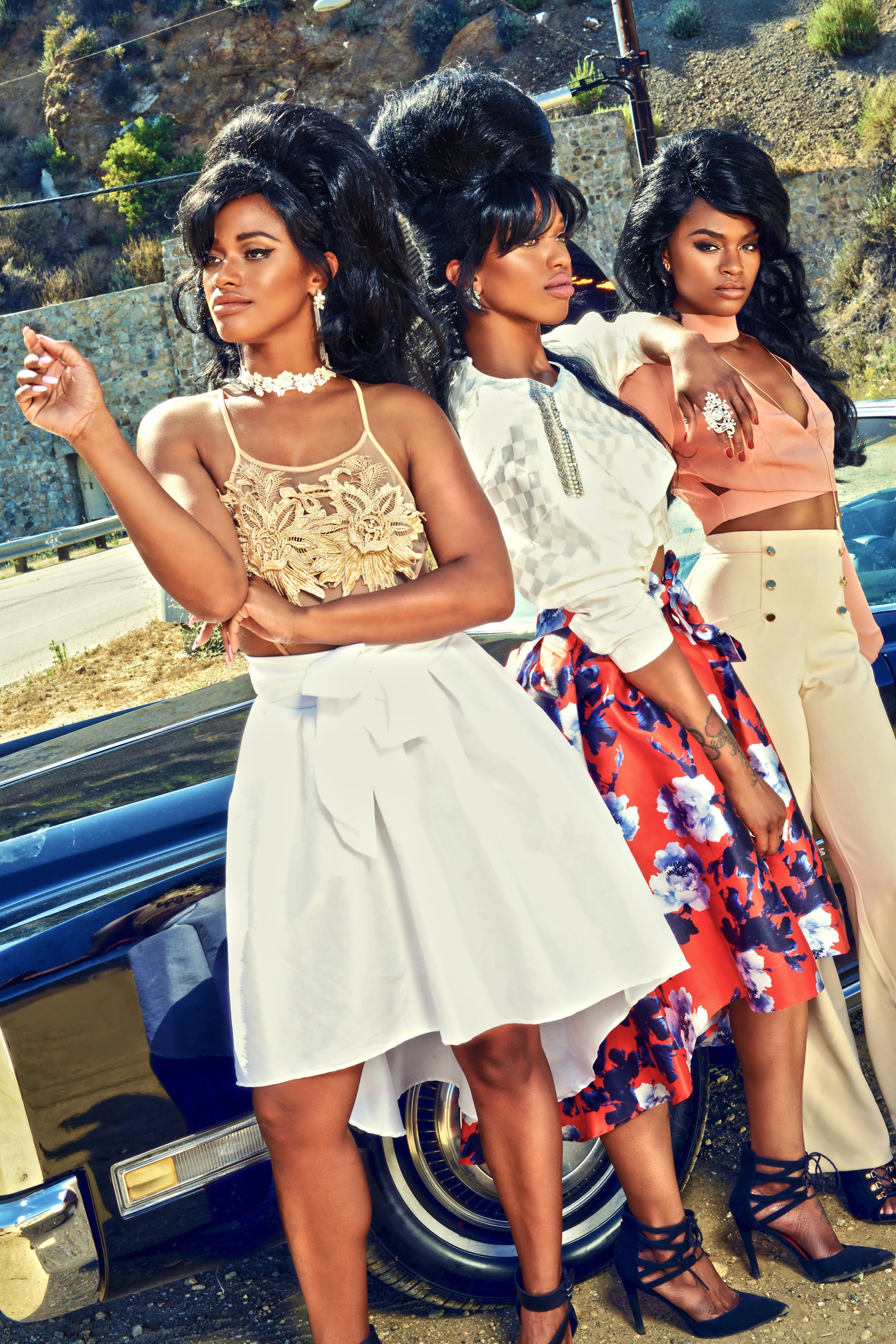 Every June, the world comes together to honor the endless contributions that Black musicians past, present, and future make to the culture. However, for the Womack Sisters — yes, of those Womacks —  every single day is a celebration of Black music because it's in their blood. Even though they come from a dynasty of iconic Black artistry, this trio is set on walking their own path in the industry, determined to set a new gold standard for themselves and the next generation of musicians.
When I first meet the Womack Sisters via Zoom, the family dynamic is immediately apparent. Kucha, the baby of the family, is calm and collected, middle child Zeimani is the opinionated, free spirit, and BG, the eldest, radiates the powerful energy of a leader. Those very different, very strong personalities could lend to discord and drama — "We do have our moments that we're at each other's throats," Zeimani laughs — but nothing is more important to these three sisters than remaining a solid unit. Family is the tie that binds them, but it's also the very thing that drives their stability in work and in play because of the havoc they witnessed while being raised by their parents, songwriters and producer duo Cecil and Linda Womack (professionally known as Womack & Womack). The Womack family tree was widely known for its music but also for its drama and in-fighting, and BG, Zeimani, and Kucha vowed that their personal and professional relationship would never suffer the same broken fate.
"A lot of people have tried to get us to do our own thing and to convince each of us to go solo," says Kucha. "But we've always been so serious about being a group act."
"As a family, we try to stay together because that energy and that deep history that we have between us is what keeps us sane in the face of all the things we've gone through," adds Zeimani. "That's the reason why we called ourselves the Womack Sisters to begin with — to honor our uncles and our dad."
Years of traveling around the world to places like Bangkok and Nairobi with their family (which also includes their grandfather, the legendary Sam Cooke, and their uncle, R&B pioneer Bobby Womack) also taught them that the key to staying true to oneself is knowing where you come from. Even with the legacy of rich music flowing through their blood, the Womack Sisters have had to create their own lane sonically in the current music landscape.
Click here to read more.
SOURCE: Refinery29, Ineye Komonibo