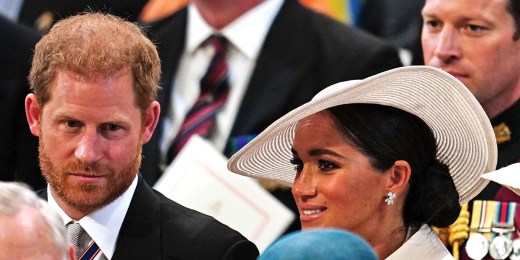 Prince Harry and Meghan Markle left the Queen's Platinum Jubilee early because the Royal Family has 'moved on' without them and the couple are not the stars that they think they are, experts told MailOnline today.
The Duke and Duchess of Sussex will have been 'really fed up' at being sidelined by the palace's 'men in suits' they have been so scathing about since quitting in 2020, it has been claimed.
And as they were met with some booing at their only public appearance at St Paul's on Friday, the couple will have learned that the British public believe being a royal is 'about service, not about self', one critic said. Another told MailOnline: 'Their attitude seems to be if we're not centre stage we don't really want to be here'.
Harry looked particularly glum as they landed back in California yesterday – with royal experts saying the sixth in line to the throne appeared angry, anxious and very uncomfortable during 'fleeting glimpses' of him and his wife during the UK visit. On Thursday they were relegated to the Major General's Office with minor royals for the Trooping the Colour, where they were photographed playfully shushing children. Their children Archie, three, and Lilibet, one, were not seen in public at all.
Investigative journalist Tom Bower, who is working on a biography of Meghan, told MailOnline that the Sussexes had been 'trounced' on their return to the UK.
He said: 'I think Palace officials were unusually skilful in managing the Sussexes. Just enough exposure to please the Queen but at the same time so limited to show them that they have been sidelined. Harry's grim expression exposed and confirmed the troubles he now faces. Meghan now faces problems about her status. Netflix are left with a problem: The Sussexes are no longer stars'.
Harry's biographer Angela Levin said the couple were probably kept apart from Prince Charles and Prince William because of their ongoing rift and fears any private conversations could end up in Harry's memoirs or on a US TV chat show.
Click here to read more.
SOURCE: Daily Mail, Martin Robinson