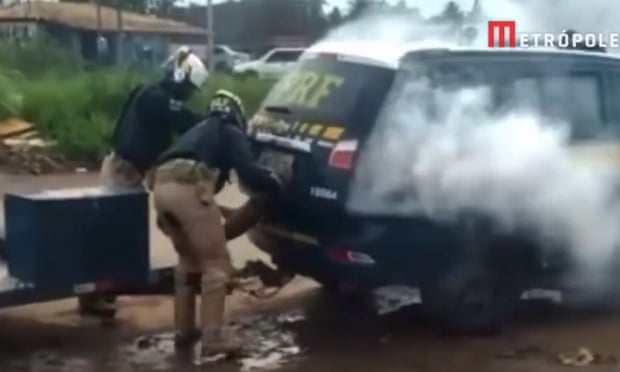 Brazilians have responded with outrage to the death of a mentally ill Black man who was bundled into the back of a police car by officers who then released a gas grenade inside the vehicle.
Genivaldo de Jesus Santos, 38, was stopped by the federal highway police in the city of Umbaúba on Wednesday. Video footage of the incident shows two officers in helmets holding the car boot closed on his thrashing legs, as clouds of gas billow out of the vehicle.
"They're going to kill the guy," an onlooker can be heard saying, as Santos's legs go still.
An autopsy report confirmed on Thursday that Santos had died of asphyxiation. HIs death came two years to the day after George Floyd was killed in Minneapolis by a white police officer who was later found guilty of murder.
According to his family, Santos suffered from schizophrenia, for which he took medication.
Santos's nephew Alisson de Jesus, who witnessed the incident said he had warned the police that the man was unwell before they released what he described as a teargas grenade. "It was a torture session," he told the local press.
The horrific death has produced shock in Brazil, where lethal police violence is commonplace and disproportionately affects the country's Black population. According to the Brazilian Forum of Public Security, police killed 6,416 people in Brazil in 2020. Almost 80% of the victims were Black.
Click here to read more.
SOURCE: The Guardian, Constance Malleret