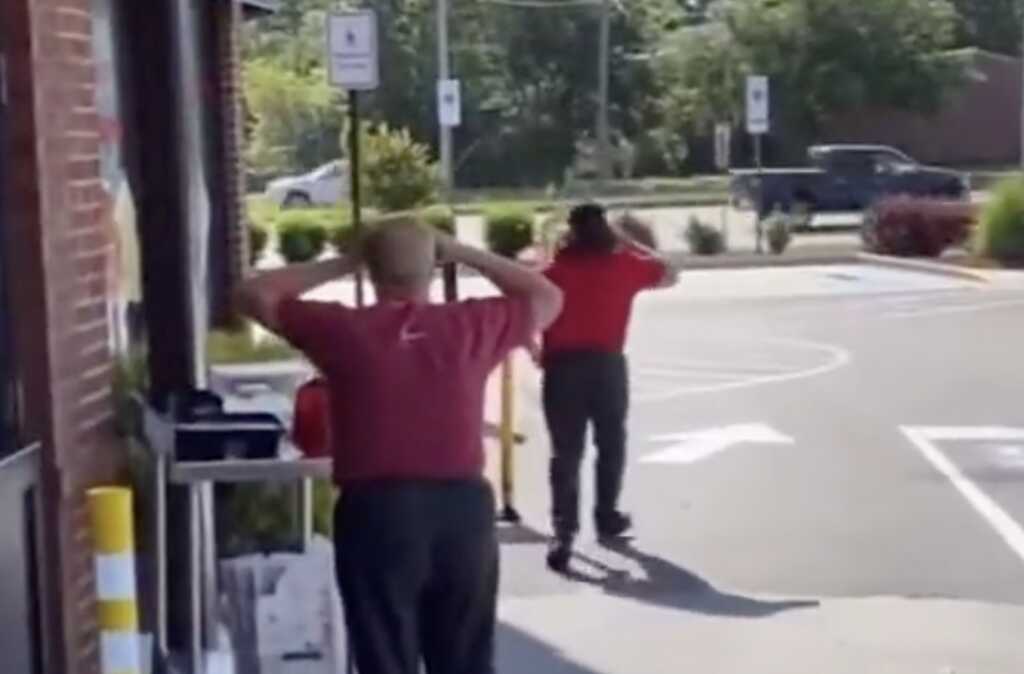 Some complaints, it turns out, might not be worth the trouble.
According to WECT-TV, a woman at a Chick-fil-A in Wilmington, North Carolina, leaped out of her white Hyundai sedan on May 9. Immediately after she exited the vehicle, her car quickly began rolling across the parking lot, over a retaining wall, and into oncoming traffic.
"Get your car!" yelled one Chick-fil-A employee moments after the woman got out of her four-door car at the pick-up spot in the restaurant's drive-thru lane. Another staffer told her, "This is why we're concerned, ma'am!"
The woman chased after her vehicle, seemingly trying to get back inside the car.
"Oh, God!" said another person in the video. "Please tell her to stop!"
The local media report indicated the woman was ultimately able to reenter her vehicle, although it still fell down the retaining wall. Thankfully, the car fell into ditch below the wall, keeping it from drifting into the busy street.
While it certainly has not been verified, one Twitter user who posted the viral clip claimed the woman exited her vehicle to complain to a Chick-fil-A employee.
Family members told WECT-TV the woman's car was totaled as a result of the incident. The woman, however, was not injured during the ordeal, though she was reportedly cited by police for failing a field sobriety test.
She was purportedly putting drinks in her vehicle's cup holders when she mistakenly knocked the gear shift into neutral. The woman was charged but not arrested, and her family questioned how she would have been able to get back into her vehicle if she was impaired by drugs or alcohol. Her blood-alcohol level, they said, was .00.
It is worth noting the woman's loved ones did tell the local news outlet she has struggled with drug addiction in the past but said she has been drug-free for months and was sober when the viral Chick-fil-A incident unfolded.
Thank God the woman is OK. While many unanswered questions remain, the outcome could have been much worse.
Source: Faithwire