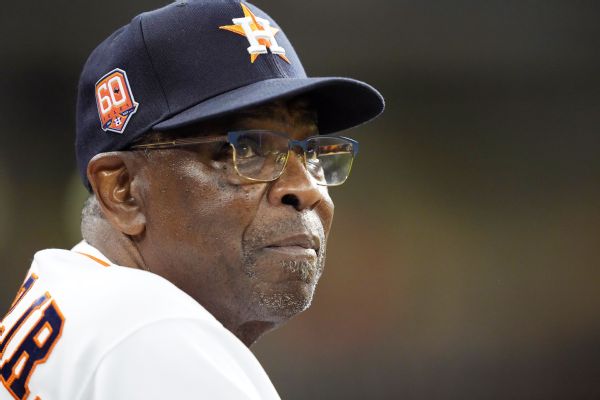 Dusty Baker became the 12th manager in major league history to win 2,000 games — and the first Black manager to reach the milestone — with the Astros' 4-0 victory Tuesday night over the Seattle Mariners in Houston.
It came more than 29 years after he collected his first win on April 6, 1993, in San Francisco's 2-1 victory over St. Louis.
"I'm probably one of the luckiest men to ever walk on this earth," a grinning Baker said minutes after the final out Tuesday.
Baker's players presented him with a bottle of vintage Dom Perignon champagne they signed with a gold marker to commemorate the achievement. The team toasted Baker with far more reasonably priced champagne in the clubhouse after the game.
His wife, Melissa, and a group of about 10 friends were at the ballpark. Melissa Baker smiled as she filmed her husband postgame from the stands as the big screen displayed a picture of him with the words "2K Wins" in huge white letters.
The 72-year-old Baker began his managerial career in 1993 with the Giants, and he has led five different teams — the Giants, Chicago Cubs, Cincinnati Reds, Washington Nationals and Astros — to the postseason, the only manager to achieve that feat. He also is one of nine managers to win pennants in both leagues, guiding the Giants to the World Series in 2002 and the Astros in 2021. His 40 career postseason wins are tied for eighth all time with Terry Francona.
With his iconic toothpick and wristbands, Baker has been one of the most vivid personalities in the game over the past three decades — on top of a 19-year career as a player that saw him finish with 1,981 hits and 242 home runs.
Click here to read more.
SOURCE: ESPN, David Schoenfield