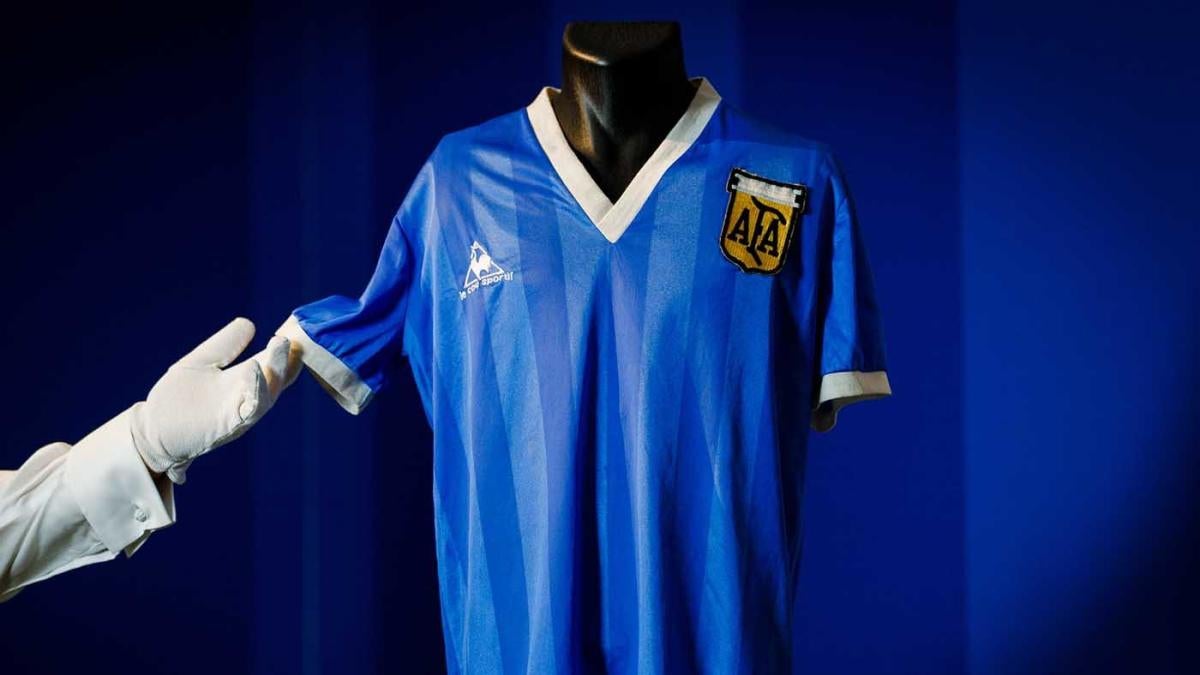 The jersey that Argentina's Diego Maradona wore when he scored the "Hand of God" goal against England in the 1986 World Cup has sold for a world-record price of $9.28 million at an auction at Sotheby's in London.
The final price surpasses both the previous record for a match-worn jersey, which was the $5.64 million paid in 2019 on Babe Ruth's 1928-1930 New York Yankees jersey, and the record price for a piece of sports memorabilia, which stood at $8.8 million for the original hand-drawn Olympic manifesto that was sold in 2019 in New York.
Maradona wore the shirt in a quarterfinal against England in 1986 in which he scored both of Argentina's goals in their 2-1 win. The first was the famous "Hand of God" goal where he palmed the ball past England goalkeeper Peter Shilton. Maradona, who died in November 2020, had said the goal was "a little from the head of Maradona, and a little with the hand of God."
His second goal is widely considered one of the finest to grace a World Cup. Maradona picked up the ball on the halfway line, dribbled through the England team and dinked it over Shilton to give Argentina a 2-0 lead. It was later named Goal of the Century by FIFA.
Steve Hodge, the former England midfielder, swapped shirts with Maradona after the 1986 match. He had previously turned down potential bids for the shirt, and it had been on display in the National Football Museum since 2002. But on April 6, Sotheby's announced the shirt was up for auction.
Click here to read more.
SOURCE: ESPN, Tom Hamilton