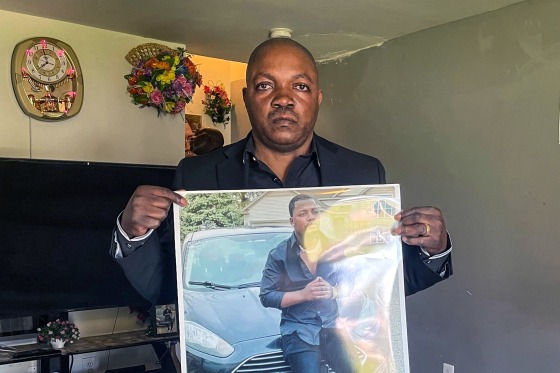 When Peter and Dorcas Lyoya moved their family to the United States eight years ago to escape violence in their home country of the Democratic Republic of Congo, they believed they had found "a safe land," Dorcas Lyoya said.
That notion was shattered earlier this month, when their eldest child, Patrick Lyoya, was fatally shot by a Grand Rapids, Michigan, police officer during a traffic stop.
"I'm surprised and astonished that it is here that my son was killed with a bullet," Dorcas Lyoya said Thursday through a language interpreter. The family's native language is Swahili. In their first comments since videos of the deadly encounter were released to the public, the Lyoyas called for "justice for Patrick" and demanded that the officer who shot him be held accountable.
They also said they were shocked that their son had died in their adopted home country.
"I didn't believe in this country that there is genocide," Peter Lyoya said. "I didn't know that in America there can be an execution style to kill someone with a gun and be a police officer."
Lyoya, 26, was killed on the morning of April 4 after he was pulled over by an officer, who told him his license plate didn't match the car he was driving. Four videos of the encounter, released Wednesday, showed Lyoya and the officer struggling before Lyoya was shot. Lyoya, a Black man, was facedown on the ground when he was fatally shot in the back of the head, one of the videos showed.
Standing visibly distraught at a lectern at the Renaissance Church of God in Christ, the same place where they demanded the release of the videos five days prior, the Lyoyas said they considered their son another head of the house.
Click here to read more.
SOURCE: NBC News, Safia Samee Ali