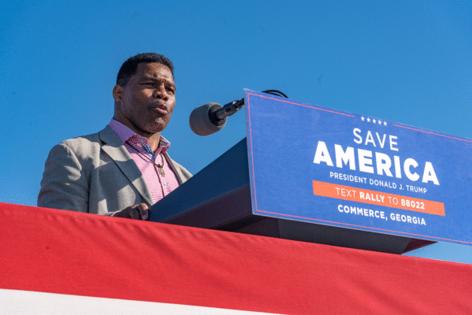 ATLANTA — Former football great Herschel Walker skipped the first major Republican U.S. Senate debate, but his absence at the event in Gainesville on Saturday helped shape the back-and-forth among the five candidates who showed up.
Each of Walker's top rivals criticized the GOP front-runner for skipping the event and predicted that his strategy, which involves a regimen of mostly tightly scripted events and private gatherings, would leave him vulnerable against Democratic U.S. Sen. Raphael Warnock.
And several at the 9th District GOP debate compared Walker's approach to President Joe Biden's "basement strategy" during the 2020 election campaign against Republican Donald Trump.
"I'm also certain that every coach that he had in the past instructed him that you'll not play in the game if you don't show up for practice," said Agriculture Commissioner Gary Black, Walker's best-known GOP rival. "But his coaches now have him locked in the basement of the locker room. I think it's a shame."
Since entering the race last year with Trump's support, Walker has ignored his rivals and bypassed many large GOP gatherings, even if it meant alienating key activists and officials. He's also indicated he won't participate in debates until the general election.
Click here to read more.
Source: Arcamax