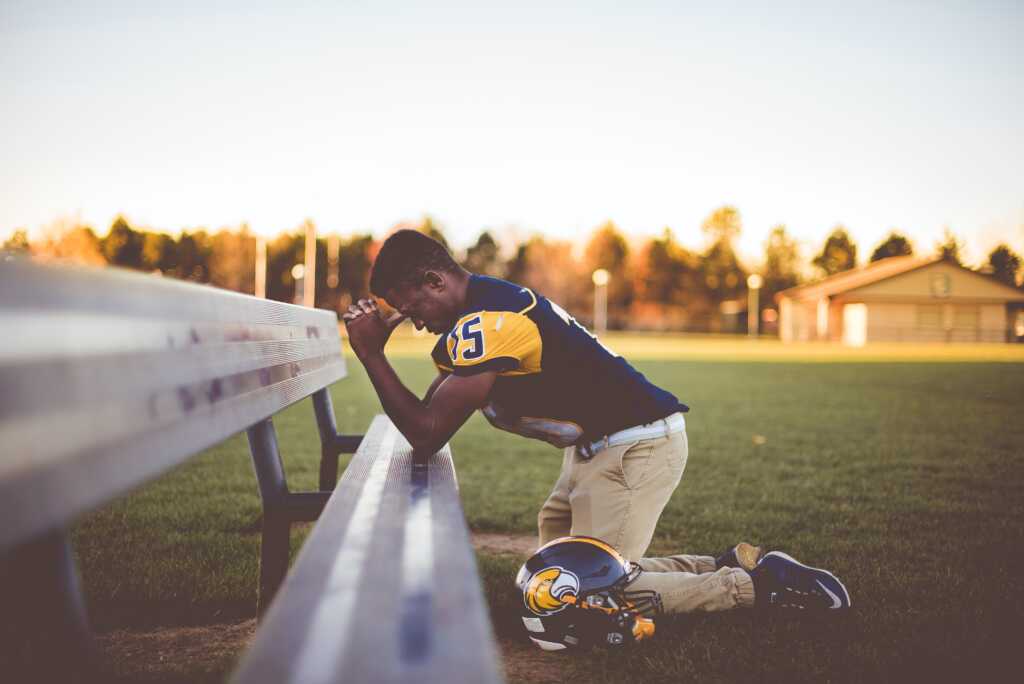 Atheists' complaints have led an Alabama school district to halt the presence of public prayers over loudspeakers before high school football games.
But the district isn't totally giving up on prayer, responding to atheist push-back by affirming that "voluntary" religious activities are permissible, and coming to the defense of Joe Kennedy, an unaffiliated football coach whose battle over public invocations has made its way to the U.S. Supreme Court.
First, let's explore how the dispute began.
How the Prayer Battle Started
The recent decision by Jefferson County Schools to stop prayers over the loudspeaker before games was made after the Freedom From Religion Foundation (FFRF), an atheist activist group, complained in a September 2021 letter that such invocations are "inappropriate and unconstitutional," WIAT-TV reported.
Gardendale High School and Pinson Valley High School were reportedly starting games with prayer over their respective loudspeakers until the FFRF reached out and told officials this practice must stop.
"It is unconstitutional for a public school to sponsor religious messages at school athletic events," the atheist group noted in a statement. "The Supreme Court has continually struck down school-sponsored prayer in public schools."
The district responded, via an attorney, in a letter last month noting the prayers would indeed come to an end.
"The Superintendent met with school principals, and the administration will not allow prayer at school-sponsored events, including football games," it read.
Jefferson County Schools Superintendent Dr. Walter Gonsoulin also told WIAT-TV in a statement the matter was resolved "administratively" and didn't involve action from the board or any new policy on behalf of that body. Gonsoulin said the government is bound by previous court policy — and offered a note about religious liberty.
"The Board's adherence to those rulings should not be understood as a rejection of students' religious rights and liberties in the school setting," he said. "The Jefferson County Board of Education remains firmly committed to respecting and protecting those rights and liberties in every way permitted by the Constitution and laws of the United States."
The FFRF Is 'Pleased' — but Not Everyone Agrees
FFRF Co-President Dan Barker said the group is "pleased" Jefferson County Schools listened to atheists' advice and halted public prayer.
"No public school event should ever be opened with a prayer," Barker said.
But some residents expressed dismay over the change.
Beverly Towery, a local resident, told WIAT-TV she's "a little disappointed."
"God is part of our community and our daily lives, so that's removing that opportunity for them to be exposed to that," she said.
But it seems the matter wasn't ultimately settled among officials with the Jefferson County Schools' previous statements, as Gonsoulin offered another press release April 8 offering additional context, according to WBMA-TV.
And that statement involved some intriguing defenses of prayer.
A Plot Twist Emerges
The district's new statement detailed not only a defense of invocations but said the initial attorney's response sent to FFRF — while done in "good faith" — wasn't meant to "provide a comprehensive analysis of school prayer in every context." It also purports the superintendent and board didn't approve the initial letter before it was mailed.
JEFCOED Statement April 8, … by ABC 33/40
But that's not all. In addition to defending "voluntary religions expression," the statement details the district's plans to Kennedy, a coach from Washington state who is seemingly unaffiliated with the Alabama school district.
"We are further directing our attorneys to prepare for our approval a formal resolution supporting the position of football coach Joseph Kennedy in his effort to secure his right to engage in post-game prayer with team members and members of the public," it reads. "Coach Kennedy's case is pending before the United States Supreme Court and should be decided later this year."
As Faithwire previously reported, Kennedy was fired in 2015 for praying on the 50-yard line and allowing students and community members to join him. Critics have widely panned the firing over the reality that players and locals voluntarily chose to join him after the conclusion of the games. Read more here.
It's unclear how the FFRF will respond to this latest development, though the district's stance is certainly fascinating.
Source: Faithwire