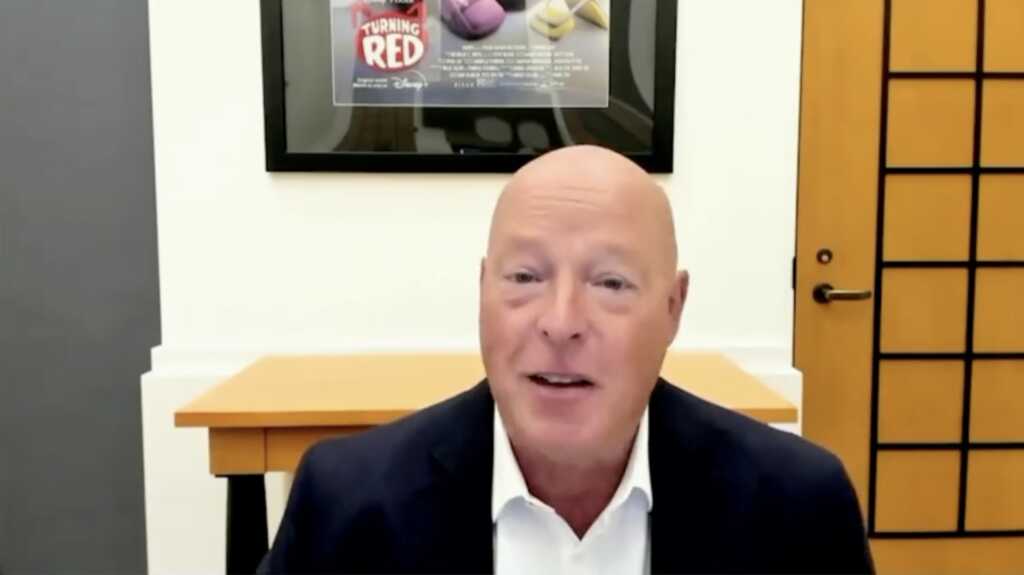 Leaked videos from The Walt Disney Company's "Reimagine Tomorrow Summit" — an internal conference for employees — have been making the rounds on social media. One of the latest clips shows Disney CEO Bob Chapek apologizing to LGBT employees and pledging to quickly implement more changes.
"I pledge to be a better ally for the LGBTQ+ community," said Chapek. "[I] apologize for not being the ally that you needed me to be. [I'm] committed to ensuring that our company lives up to its values."
The top executive went on to say he knows Disney has "work to do."
"That work starts with listening," he explained, noting staffers would be hearing from a panel of LGBT employees. "[I] have been taken by the honesty, the openness, and the urgency of their stories. I want you to know that your words have made a real impact on me. I understand that we've made mistakes and the pain that those mistakes have caused. And I know that our silence wasn't just about the bill in Florida, but about every time an individual or institution that should've stood up for this community did not."
Moving forward, Chapek said he and other top brass at The Walt Disney Company will use the furor over the mischaracterized and maligned Parental Rights in Education bill in Florida as "a catalyst for more meaningful and lasting change," adding he is "working to move quickly" to implement unspecified changes recommended to him by Disney's "LGBTQIA+ advisory council."
Of course, it should be noted the word "gay" never once appears in the "parental rights" legislation — which Florida Gov. Ron DeSantis (R) recently signed into law — and does not ban its use. Rather, the bill stipulates public school educators cannot teach children in pre-K through third grade about sexual orientation or gender identity.
Other "Reimagine Tomorrow" clips that have circulated include Vivian Ware, "diversity and inclusion manager" for Disney, celebrating the fact that Disneyland in Anaheim, California, and Walt Disney World in Lake Buena Vista, Florida, have done away with all narrative mentions of "ladies and gentlemen" and "boys and girls," in an attempt to create "that magical moment" for children who do not identify as male or female.
As CBN's Faithwire previously reported, that change was first implemented in June of 2021.
Ware went on to say, "We don't want to just assume, because someone might be, in our interpretation, maybe presenting as female, that they may not want to be called 'princess.' So let's think differently about how do we really engage with our guests in a meaningful and inclusive way that makes it magical and memorable for everyone."
Karey Burke, president of general entertainment at Disney, also spoke during the summit. She told her fellow employees she is the mother of two children — one who identifies as transgender and the other as pansexual — and supports having "many, many, many LGBTQIA characters" in Disney films and TV shows, noting she wants to see an increase in the percentage of Disney characters who are openly LGBT.
Earlier this week, CBN's Faithwire spoke with Hold the Line founder Sean Feucht, who led a rally outside The Walt Disney Company headquarters in Burbank, California. Hundreds of Christians and conservatives — including at least one current Disneyland employee — descended on the property to voice their opposition to Disney's embrace of leftist ideologies.
Feucht said parents across the country have been "blindsided by the fact that Disney would enable people that are fighting for the sexualization of children, starting in kindergarten," adding, "It's one thing to make content. It's another thing to fight for those that want to groom and sexualize kids."
He also noted the anonymous open letter circulated inside The Walt Disney Company from cast members lamenting the brand's embrace of "progressive orthodoxy," many feeling as if their beliefs have "come under attack from our own employer, and we frequently see those who share our opinions condemned as villains by our own leadership."
"You have people who have been working at Disney their whole lives, their whole career, [and] they're believers, they love God, they love America," said Feucht. "They want to make content that's safe for children and then Disney comes out with this crazy stance against DeSantis. They're frustrated. And you know, I applaud them for their willingness to stand with us today. They might be risking their jobs, but they think it's a more important issue."
One of those employees raised her voice at Wednesday's rally in front of The Walt Disney Company's Burbank headquarters. She told her fellow conservative and Christian cast members they are "not alone."
Having worked at Disneyland since 2001, she said, "I've been with them for quite a long time and it has gotten very political and it's gotten very hard to be who you are. It's gotten very hard to be someone who has conservative values."
"It's OK to stand up for righteousness," she said. "[A]ny Disney cast members that are afraid to be bold, that are afraid to be courageous, stand up. It's OK. You're not alone."
This week, our Faithwire team discussed the latest news on Disney. You can watch the conversation:
Source: Faithwire