Daniel Whyte III wrote on July 14, 2021: Mayor of Miami, Florida, Wants Biden to Carry Out Airstrikes Against Cuba; Daniel Whyte III Says That Biden Will Not Do Anything Like That Because That Is Not His Nature and because I believe he fears Russia and China and If He Does That Then Russia, China, and Iran Will Finish destroying the great sodomite whore America
Miami mayor Francis Suarez said the U.S. should consider bombing Cuba as part of its response to recent citizen uprisings in the country against its government.
In a Tuesday interview with Fox News, Suarez noted a brief history of U.S. involvement in overturning foreign leaders. His history mentioned the U.S. airstrikes in Kosovo during the country's 1999 humanitarian crisis.
"Are you suggesting airstrikes in Cuba?" Fox News anchor Martha MacCallum asked Suarez.
"What I'm suggesting is that option is one that has to be explored and cannot be just simply discarded as an option that is not on the table," Suarez answered. "And there's a variety of ways the military can do it."
He added that bombing was just one of "a variety of other options that can be discussed." He also said that he and other elected officials sympathize with the Cuban protesters after seeing images of them "risking their lives, protesting in the streets."
Click here to read more.
Source: Newsweek
Daniel Whyte III wrote on August 23, 2020: As Daniel Whyte III has been preaching for years, God is slowly, lovingly, mercifully dismantling America piece by piece because of our sin: California scorched by wildfires that are some of the largest in state history and some suggest sending in the National Guard; Dueling Tropical Systems/Hurricanes Could Threaten USA on the same day. This is in addition to the coronavirus plague which is getting worse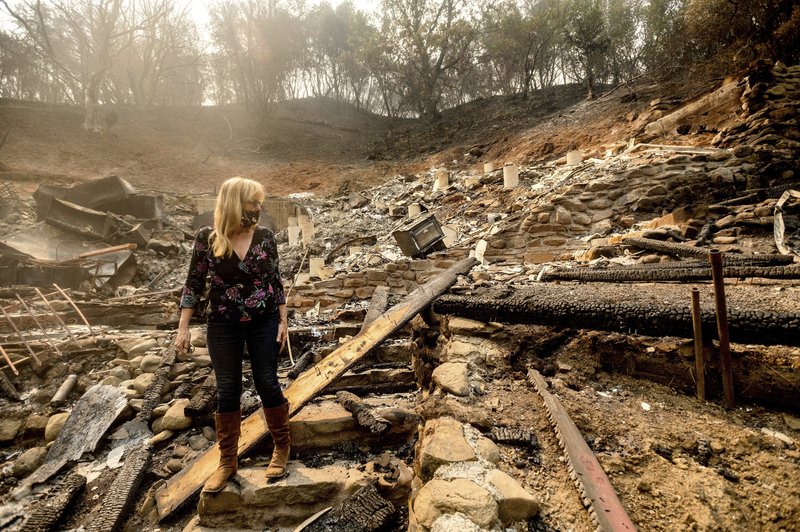 A dashcam has captured people making the terrifying drive through the California wildfires that have now killed six with two of the blazes now in the top ten biggest ever seen in the state, as Governor Newsom pleads with Canada and Australia to send help.
Horrifying footage showed the scenes from a car driving through the raging flames of the Hennessey Fire in Napa County as heavy smoke filled the air and burning trees overhead dangerously threatened to topple.
At least six people have been killed as a staggering 560 fires continue to spread uncontrollably across the state of California.
More than 771,000 acres have been destroyed – bigger than the whole state of Rhode Island – as the wildfires wipe out homes, trees and entire neighborhoods that they find in their paths.
Much of the destruction can be put down to the two massive blazes the SCU Lightning Complex and the LNU Lightning Complex, which officials today said have grown to some of the largest ever seen in the state's history.
Click here to read more.
Source: Daily Mail
Daniel Whyte III wrote on June 1, 2020: The Black and White Church Has Failed America, and as We Have Said for Over 10 Years, God is Dismantling America Piece by Piece Because of the Sin of the Church That Led to the Sin of the Government. The DailyMail.com Article, Which is a British Publication, Says in Large Second Coming Letters "Broken America" and Yes, America is Broken. But Why is She Broken? America is Broken Because She Did Not Take Heed to Her Prophets Dr. Martin Luther King Jr., Dr. Billy Graham, Dr. D. James Kennedy, Dr. E.V. Hill, Dr. Francis Schaeffer, Dr. Jerry Falwell, Sr., and Prophet Leonard Ravenhill. Our Modern Day So-called Church Leaders Who Think They Are Very Special and Very Smart Have Led the Church to Fail America. The Black and White Church Has Failed America, and as We've Said Before, the Reason Why the Coronavirus Plague is On Us is Because it is Primarily a Plague Against the Church Because of Her Sins of Pride, Prayerlessness, Stubbornness, Rebelliousness, Adultery, Fornication, Homosexuality, the Sanctioning of Homosexuality, Racism, and Not Obeying the Great Commission or the Great Commandment, as Well as Compromising With Politicians and the World. Prophet Leonard Ravenhill said churches and pastors and playing instead of praying. Pastors and Churches Have Failed America and They Are Still Failing America as the Church is Powerless With the Government to Overturn Such Foolishness as the Sanctioning of Homosexuality, Homosexual Marriage, and the Homosexual Agenda, and Even in This Present Racial Crisis They Obviously Do Not Have Any Influence on the Protesters That Have Gone Wild Causing Chaos in This Country. Peaceful, nonviolent protests against evil are good and necessary, but burning down and looting your own community is stupid and has nothing to do with the tragic murder of Mr. Floyd.
The devastation of overnight rioting and looting has been laid bare in shocking images from across multiple US cities as black mayors of Washington, DC, and Atlanta, Georgia, plead for an end to violent demonstrations.
DC Mayor Muriel Bowser and Atlanta Mayor Keisha Lance Bottoms, both Democratic women, said while they support Americans' right to protest, they wish it was not at the expense of the safety of their community.
Authorities across the nation have arrested more than 1,400 people in 17 cities since Thursday. At least three people have died since the protests began following the horrifying death of George Floyd, a black man who was killed while in the custody of Minneapolis, Minnesota, police officers on Memorial Day.
'We're sending a very clear message to people that they have a right to exercise their First Amendment rights, but not to destroy our city,' Bowser told NBC's Chuck Todd in a joint interview with Lance Bottoms on Sunday morning.
'So we saw a level of just destruction and mayhem among some that was maddening,' she continued. 'Our crews are out right now cleaning up our city, and we are working with all of our law enforcement partners to ensure calm in our city.'
Bowser's comments came as rioters took to the streets in DC over the weekend, clashing with law enforcement all over the city – and even in front of the White House.
Lance Bottoms told Meet the Press that 157 people were arrested in Atlanta.
She admitted that 'there are no easy answers' on how to respond to Floyd's death or race relations between black people and cops, but agreed with Boswer in asserting that 'the solution is not to destroy our cities'.
Click here to read more.
Source: Daily Mail
---
Experts Predict That Coronavirus Plague Cases Will Rise in America Because of the New BA.2 Variant
Experts fear that COVID-19 cases in the United States will rise in the next few weeks as the new BA.2 variant continues to spread.
Data from the Centers for Disease Control and Prevention shows BA.2, which is a subvariant of omicron, has been tripling in prevalence every two weeks.
As of the week ending March 11, BA.2 makes up 23.1% of all COVID cases in the U.S. compared to 7.1% of all cases the week ending Feb. 26, according to the CDC.
Although the original omicron variant still makes up the majority of America's COVID infections, its prevalence has dropped over the same period, from 74.5% to 66.1%.
Dr. Anthony Fauci, the nation's top infectious disease expert, said given the growing prevalence of BA.2, he expects cases will increase within the next month.
"I would expect that we might see an uptick in cases here in the United States because, only a week or so ago, the CDC came out with their modification of the metrics for what would be recommended for masking indoors, and much of the country right now is in that zone, where masking indoors is not required," Fauci told ABC affiliate KGTV Wednesday.
Fauci added that he believes BA.2 will become the dominant variant in the country, surpassing the original omicron variant.
He noted several European countries — such as Finland, France, Germany, the Netherlands and the United Kingdom — have reported a spike in COVID-19 over the last couple of weeks.
In the U.K., 93,943 cases were recorded Wednesday, according to Johns Hopkins University, more than double the 45,303 recorded two weeks earlier.
Click here to read more.
Source: ABC News
---
Omicron Subvariant BA.2 Is Spreading Fast in America, Causing Nearly One Quarter of New Coronavirus Plague Cases
— The BA.2 variant is spreading fast in the United States, with infections nearly doubling every week, according to CDC data.
— BA.2's prevalence is the highest in the Northeast of the country. In the region spanning New York and New Jersey, the CDC estimated 39 percent of circulating viruses were BA.2.
— Early studies showed that BA.2 may be up to 30 percent more transmissible than the original Omicron. But so far it does not appear to cause more severe diseases.
WASHINGTON, March 16 (Xinhua) — The BA.2 sub-lineage of the Omicron variant now makes up nearly a quarter of new COVID-19 infections in the United States, according to the latest data of the U.S. Centers for Disease Control and Prevention (CDC).
This data is up from around 1 in 10 new cases just a week prior.
The BA.2 variant is spreading fast in the country, with infections nearly doubling every week, according to CDC data.
BA.2 accounted for only 1 percent of new cases in the week ending Feb. 5, rising to 2.2 percent in the week ending Feb. 12, and 4.1 percent in the week ending Feb. 19, and 7.1 percent in the week ending Feb. 26, CDC data showed.
The variant was responsible for 23.1 percent of coronavirus infections in the country in the week ending March 12, up from 13.7 percent in the previous week ending March 5, according to the CDC estimates.
Click here to read more.
Source: Xinhua