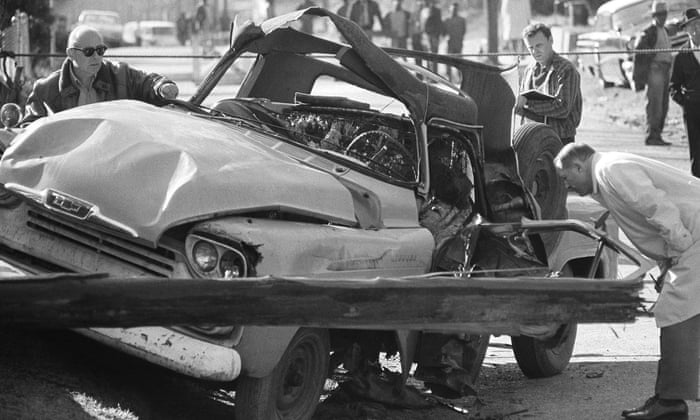 A cold case from the civil rights era is at the heart of "American Reckoning," a new documentary airing on PBS' "Frontline." But the movie, directed by Yoruba Richen and Milwaukee filmmaker Brad Lichtenstein, is also a compelling portrait of a neglected moment in the movement and the killing that punctuated it. 
"American Reckoning" recounts the life and murder of Wharlest Jackson, a leader of the NAACP in Natchez, Mississippi, who was killed by a car bomb in 1967. Built from remarkable contemporary footage and present-day interviews, the documentary shows how the Emmett Till Unsolved Civil Rights Crime Act — a 2008 law designed to reopen unresolved crimes from the civil rights era — works, and doesn't work, to get answers to hundreds of crimes left unsolved for half a century.
After its premiere at 9 p.m. Tuesday on Milwaukee PBS' WMVS-TV (Channel 10), "American Reckoning" will air at 7:30 p.m. Feb. 16 on PBS World, locally on Channel 36.2 (Channel 976 on Spectrum), and again at 12:30 a.m. and 9:30 a.m. Feb. 17 on PBS World. The documentary is also streaming starting at 6 p.m. Feb. 15 at pbs.org/frontline  and on the PBS Video App.
The documentary is the latest installment in Un(re)solved, a multiplatform initiative by "Frontline" exploring more than 150 unresolved murders from the civil rights era.
Lichtenstein — whose recent films "Messwood" and "When Claude Got Shot" have explored the hard truths of Black life in Milwaukee — said "American Reckoning" got its start from a 2014 conversation with civil rights hero John Lewis.
He first met Lewis when he was 15, growing up in Atlanta, and worked on Lewis' congressional campaigns, becoming friends. Fast-forward to 2014, when Lichtenstein visited Lewis at his office to talk about potential film projects. A member of Lewis' staff asked the filmmaker if he'd be interested in looking at some of the cases stemming from the Emmett Till Unsolved Civil Rights Crime Act, which Lewis had authored in Congress.
He landed on the story of Wharlest Jackson, an NAACP leader in 1960s Natchez, Mississippi, who was killed in a car bombing in 1967. In addition to Jackson's captivating story, Lichtenstein had a secret weapon in forming his film: actual footage of Jackson's world leading up to and after his assassination.
Click here to read more.
SOURCE: Milwaukee Journal Sentinel, Chris Foran