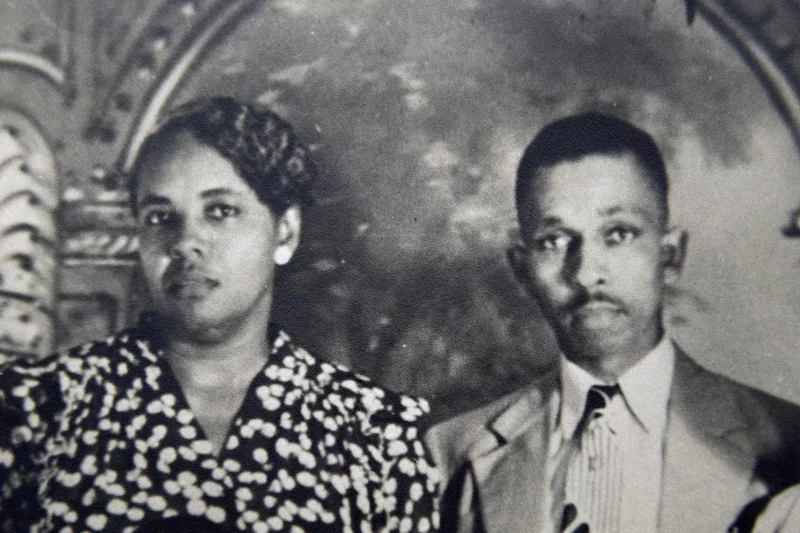 Seventy years ago, one of the first civil rights leaders of the modern era was killed in a bombing in Florida. Harry T. Moore isn't as well known as civil rights icons Medgar Evers or Martin Luther King Jr. Moore's activism began earlier, in the 1930s. His work in Florida investigating lynchings and registering African Americans to vote cost him his life.
He lived and carried out his work from his home in Mims, a small town on Florida's Atlantic coast, where he lived with his wife, Harriette Moore, and two daughters. Today, it's home to the Harry T. & Harriette V. Moore Cultural Complex.
School groups visit almost daily. There's a museum where visitors hear about Harry T. Moore's early history. He and his wife were both teachers who lost their jobs because of Moore's activism. Undeterred, he became the NAACP's executive secretary in Florida, traveling the state, fundraising, organizing chapters and registering voters.
Bill Gary, a former head of the NAACP in Brevard County, says Moore "laid the groundwork for the modern civil rights movement. Moore was fighting for the right to register Black voters. Moore was fighting to get anti-lynching legislation passed. He was fighting to equalize Black and white teachers' salaries."
At the Moore Cultural Complex, there's also a replica of the Moores' house. The original was destroyed in a bombing on Christmas Day in 1951. On a recent tour, dozens of eighth-grade students crowd into the tiny shotgun-style house. Museum guide Aisha Hosey stands on a chair to get their attention. "I want you to know Mr. Moore was an extremely brave man," she says.
Hosey shows the students the 1940s-style kitchen and the Christmas tree still standing like it was the night Moore was killed (his wife died a little over a week later). She talks about why Moore was killed. "He registered voters, and voters are extremely important," she says. "He fought against lynching, and lynching was prevalent."
Visitors in the Moores' time knew Florida for its warm weather, its beaches and its orange groves. But for decades, the state was also the scene of lynchings and violence against African Americans. Anti-Black violence by whites had destroyed communities in Rosewood and Ocoee in the 1920s. Between 1900 and 1930, Florida had the nation's highest number of lynchings per capita.
Click here to read more.
SOURCE: NPR, Greg Allen