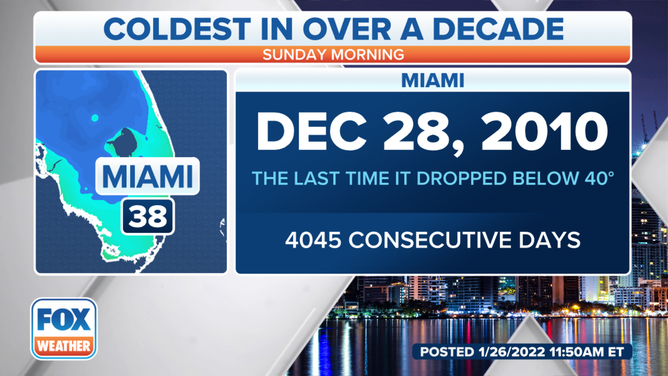 MIAMI – Floridians living Miami will be grabbing the blankets this weekend, as the coldest temperatures in over 11 years arrive Sunday morning.
The chill will sure be felt with a low bottoming out to 38 degrees. The last time temperatures dropped below 40 degrees in Miami was on Dec. 28, 2010.
A 1966 record in Lakeland could be broken Sunday morning when temperatures reach a low of 27 degrees. Orlando, Fort Myers and Fort Lauderdale could also see record cold.
The National Weather Service issued a Special Weather Statement on Wednesday warning of a strong cold front that will move down the Florida Peninsula Friday night, then off the southeastern Florida coast during the pre-dawn hours of Saturday.
Click here to read more.
Source: Fox Weather