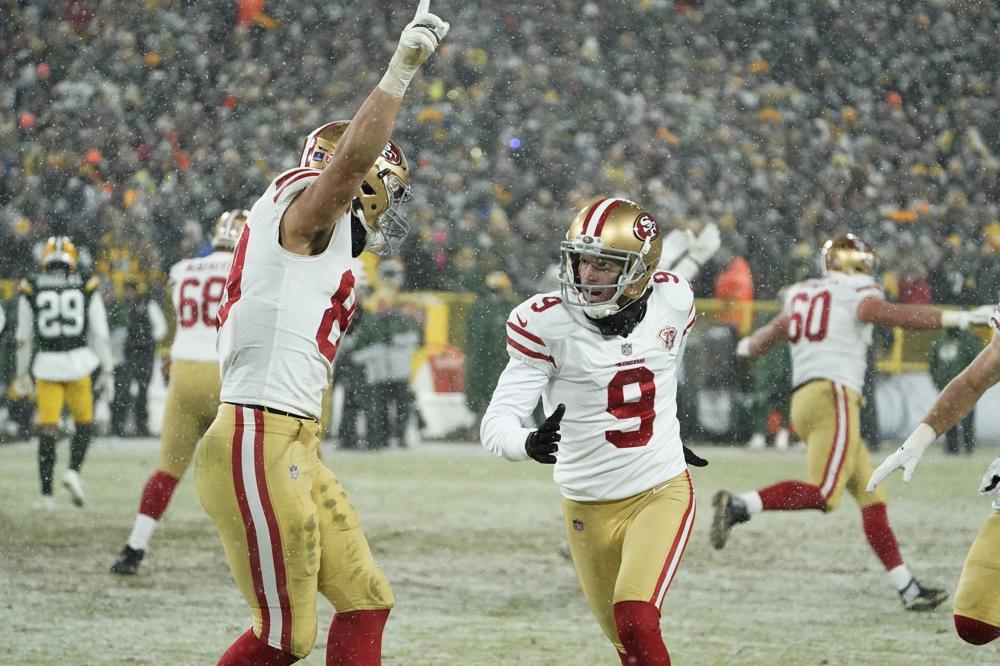 The San Francisco 49ers simply will not go away.
The same Niners that were once 3-5 and headed for a long offseason full of questions are now headed to the NFC Championship Game for the second time in three seasons.
To get there, San Francisco had to pull out the type of late-game magic that has been a hallmark of its late-season surge to the playoffs. The result was a wild 13-10 win over the Green Bay Packers on Saturday night at Lambeau Field.
The 49ers await the winner of Sunday's NFC divisional game between the Tampa Bay Buccaneers and Los Angeles Rams.
After a disappointing offensive performance, the Niners pieced together the drive they needed at the biggest moment, with wide receiver Deebo Samuel taking a handoff nine yards for a first down on third-and-7 at Green Bay's 38.
Samuel's run set up place-kicker Robbie Gould's winning 45-yard field goal as time expired.
"This team has been through a lot," San Francisco tight end George Kittle said. "We've been through a lot of adversity. We've dealt with a lot. We've lost games by making mistakes. We've won games dirty. This is a gritty team. It's a salty team, and we just keep bouncing back."
Click here to read more.
SOUURCE: ESPN, Nick Wagoner