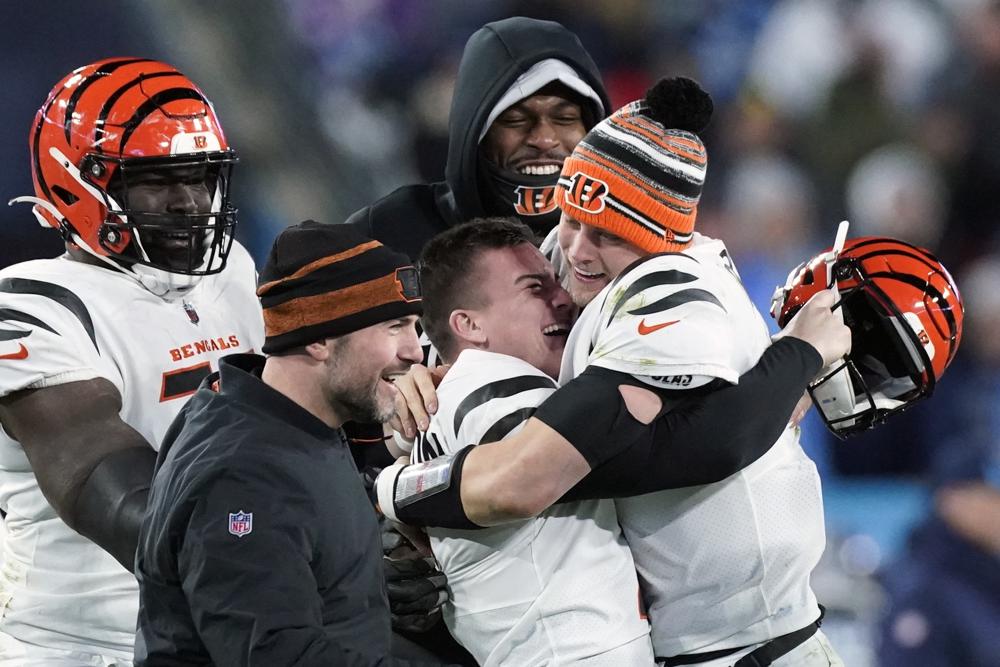 The Cincinnati Bengals wanted to send a message after their dramatic playoff win Saturday over the Titans. They're not underdogs anymore.
Cincinnati emphatically delivered that message with a 19-16 victory against the top-seeded Titans. Rookie Evan McPherson's 52-yard field goal as time expired sent the Bengals to their first AFC Championship Game since 1988.
Throughout the team's best postseason run in more than 30 years, the theme of "Why not us?" has been a common refrain for this season's Bengals team. Cincinnati wants that retired. Immediately.
"I'm tired of the underdog narrative," Bengals quarterback Joe Burrow said after the game. "We're a really, really good team. We're here to make noise."
The Bengals delivered that statement with an improbable finish that produced the first playoff road win in franchise history. After the Titans scored 10 straight points in the second half to tie the score at 16, Tennessee was driving down the field in the final minute before Cincinnati reversed the course of the game.
Bengals linebacker Logan Wilson intercepted a pass from Tennessee quarterback Ryan Tannehill that was batted into the air by Cincinnati cornerback Eli Apple with 20 seconds left at the Cincinnati 47. A few plays later, McPherson booted his fourth field goal of the game and sealed a trip to the title game to face the winner of the AFC divisional contest Sunday between the Kansas City Chiefs and Buffalo Bills.
"He [McPherson] gave a little warmup swing and he said, 'Ahh, looks like we're going to the AFC championship,'" Burrow said after the game.'
Click here to read more.
SOURCE: ESPN, Ben Baby