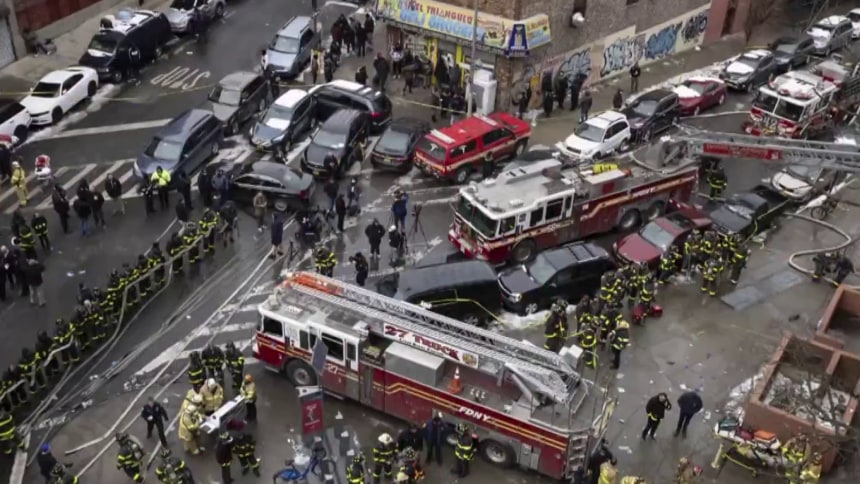 New York City officials said there were 19 fatalities, including nine children at the site of a five-alarm fire in the Bronx on Sunday, where at least 63 people were injured.
Roughly 200 firefighters responded to the blaze at a 19-story apartment building on East 181 Street, according to the New York City Fire Department. Authorities were called to the scene at about 11 a.m. and managed to contain the flames at around 1 p.m., NBC New York reported.
Fire Department Commissioner Dan Nigro said he anticipated "numerous fatalities" earlier in the day. Of the 19 fatalities reported, nine were children.
In response to a question about the rumors that residents may have jumped out of windows, Nigro said it was possible that some "might have fallen from the building" trying to get onto ladders placed by firefighters. He had not heard reports of anyone jumping prior to the department's arrival.
"The last time we had a loss of life that may be this horrific was at a fire which was over 30 years ago, also here in the Bronx," Nigro said.
The commissioner seemed to be referring to the 1990 Happy Land social club fire, which killed 87 people. A man who worked at the club's coat check-in, angry at having been spurned by his former girlfriend, set the club on fire following a heated argument.
It's unclear what sparked the Sunday blaze, which the fire marshal's office will investigate.
At least 63 people were injured with some level of smoke inhalation. The department reported 32 of the injured were in life-threatening conditions, while another nine people were described as being in "serious" condition.
Click here to read more.
Source: NBC