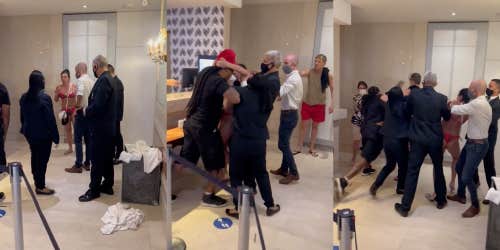 Viral footage shows a white woman physically attacking a Black man at a Hilton hotel in Rio de Janeiro on New Year's Day. The altercation allegedly happened after hotel staff served the man, who had priority as a Diamond member, before the woman and her partner.
The video was shared to Twitter by user @monty_sexton, who goes by King on the platform. The video received more than 800,000 views as of Wednesday.
As of Monday, King said he had not received a response from Hilton after writing to them to report the incident.
Twitter user @slyfoxnyc, who goes by HL on the platform, replied to King's tweet, claiming to be the man who was attacked in the video.
Watch til the End, Drunk Racist Man and woman mad because he's Gold Or Diamond Hilton member and therefore gets service before everyone else. Hotel staff just sitting by and letting the racist woman do whatever, mind you she already touched him prior #Karen #hilton pic.twitter.com/tApFW53z2a

— King (@monty_sexton) January 1, 2022
https://platform.twitter.com/widgets.js
"Can you please send the video to me so I can send to Hilton headquarters, because of this security failure the couple had the police waiting outside looking for me for hours I couldn't stay at the hotel that night because they lied saying I attacked them. Thanks for recording," HL tweeted at King on Jan. 2.
The footage shows HL standing by a reception desk separated from the white couple by four people who appear to be hotel security guards.
"Y'all haven't de-escalated the situation because she's still right there talking," King can be heard saying, referring to the white woman. "Y'all are supposed to separate the party."
Click here to read more.
SOURCE: The Daily Dot, Cecilia Lenzen