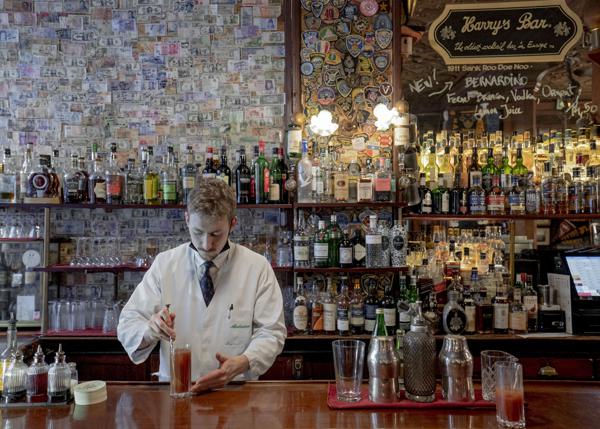 Bloody mary, the vodka-tomato juice cocktail, has been around for 100 years. Harry's Bar in Paris will be celebrating its birthday. The cocktail is believed to have been invented at he iconic watering hole in 1921.
According to the history of Harry's, bartender Fernand Petiot invented the cocktail, and the recipe was first published in a book called "Harry's ABC of Cocktails" in 1921. The bar serves an estimated 12,000 bloody marys a year.
Just how do you make this drink?
"It's a classic drink," bartender Dante Agnelli said while demonstrating the mixology behind the drink, ingredient by ingredient: salt and pepper, Tabasco sauce, Worcestershire sauce, lemon juice, vodka and tomato juice.
"You make it directly in the glass," Agnelli said as he stood at the counter where Petiot first performed the now well-established ritual 100 years ago, at the dawn of what became known as the roaring 1920s.
Franz-Arthur MacElhone, a great-grandson of bar founder Harry MacElhone, said the celebration would take place in line with government regulations: the health passes of patrons from around the world will be checked, hand sanitizers will be distributed, and bar staff will wear masks.
There is another story behind the real Bloody mary:
"There's a Hemingway story," he said. "It was just before he got married, and he had been dating somebody called Mary."
As that story goes, Hemingway allegedly did not want to have alcohol on his breath and asked for a drink mixed with juice.
Tomato juice was added, and "while he was drinking it, he was saying 'bloody Mary'", MacElhone said.
– Ella Breedlove