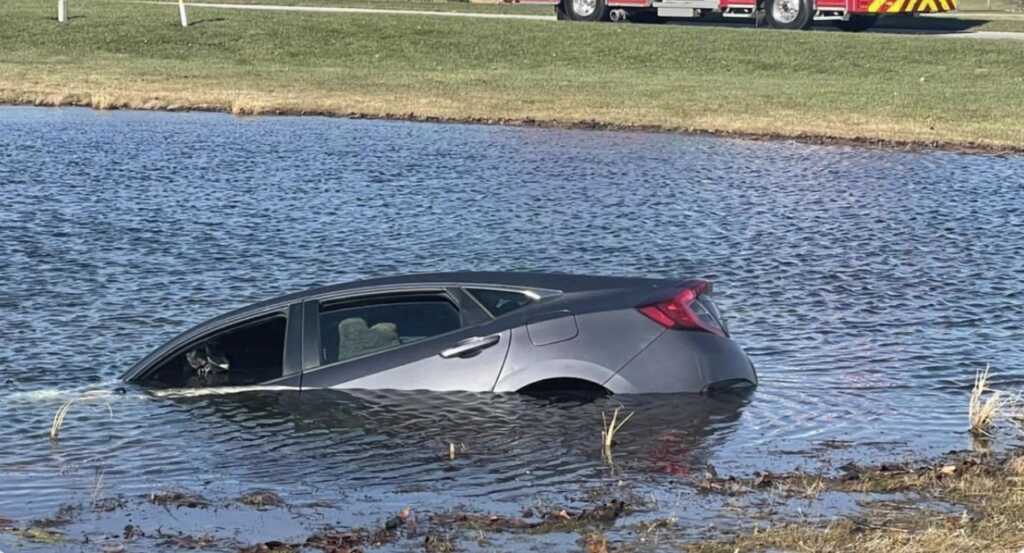 A good Samaritan who saw a car slowly sinking into a Bargersville, Indiana, pond Monday afternoon took swift, selfless action to save an unconscious woman inside.
The dangerous incident unfolded around 12 p.m., when the car veered off the road and into the body of water.
That's when Brandon Brown, who was driving a dump truck nearby, jumped into action, calling the scene before him a nail-biting "go, go, go" situation.
"I was headed west on Whiteland Road and I [saw] a car go into a pond. A couple of cars in front of me just went about their business," Brown told the Daily Journal. "Before my brain could register what was going on I put my truck in park and was calling 911 and I was headed over to help."
The pond is purportedly only three feet deep, but with knowledge surrounding the circumstances, time was of the essence.
As it turns out, the 19-year-old woman inside was experiencing a medical problem that left her in and out of consciousness and unable to exit the vehicle of her own volition.
"When you see a car go into a pond, that's not normal," Brown continued. "I wasn't going to just see that and not do anything. My instinct was to not let the car sink and get whoever that person is out."
So, he got into the water and was joined by another man who arrived at the scene, William Clements.
The two were able to get the woman's attention and, once she rolled the window down, were able to pull her out and bring her to shore, where others awaited to help.
The Bargersville Fire Department sent a tweet Monday explaining the situation and offering an update on the woman's condition.
"A passerby pulled a single female from the car as it was sinking," the tweet read. "The female was transported to St. Francis hospital alert and oriented."
Brown said it was a "blessing" he was there, as he wasn't supposed to be, but a recent schedule change made it possible. By the time authorities arrived at the scene, the car was nearly fully submerged, making the rescue that much more remarkable.
Source: Faithwire