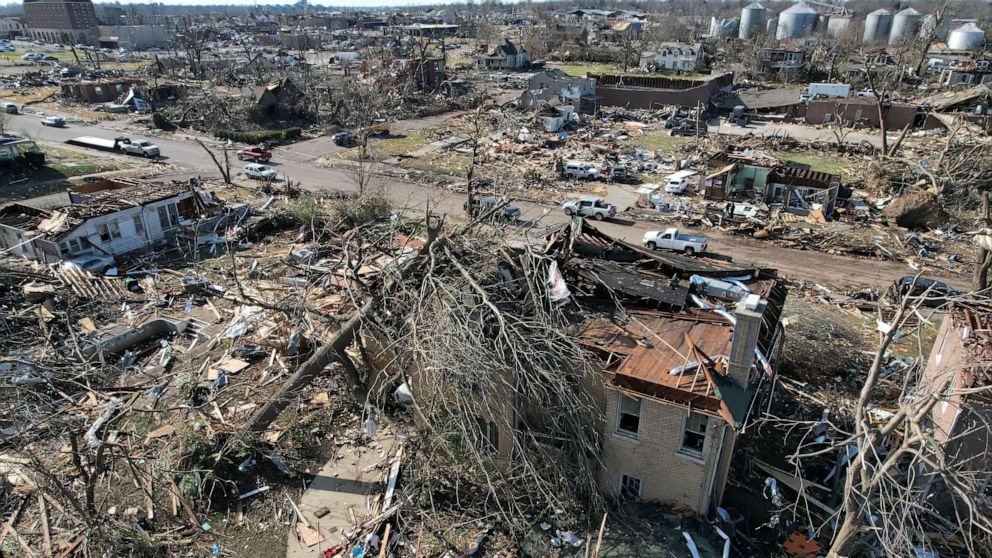 A devastating tornado outbreak has killed dozens of people across two states, with Kentucky seeing its deadliest tornado system ever, officials said.
At least 70 people were killed in western Kentucky, and the death toll could exceed 100, according to Gov. Andy Beshear.
"This has been the most devastating tornado event in our state's history," Beshear said during a Saturday morning press briefing. "For those that have seen it, what it's done here in Graves County and elsewhere, it is indescribable."
"Dozens" were killed at a candle factory in Mayfield, where 110 people were working when the storm hit Friday night, Beshear said at a 4 a.m. press conference. Around 40 people were evacuated, although the facility had major structural damage from the storm and housed dangerous equipment, he said late Saturday morning.
"It's a very dire situation at this point," Beshear said. "I think the largest loss of life in this tornado event is and will be there."
It will be a "miracle" if anyone is found alive at this point, he said during a briefing Saturday afternoon.
One tornado potentially was on the ground for 227 miles, he said, devastating towns like Mayfield and Princeton late Friday. At least four tornadoes tore through western Kentucky.
Click here to read more.
SOURCE: ABC News, Emily Shapiro, Max Golembo, Daniel Peck, Mark Osborne, and Meredith Deliso