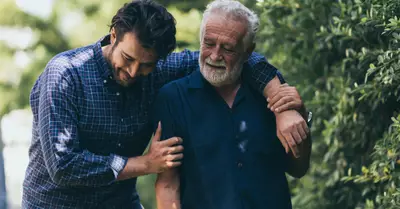 "This is the hardest thing I've ever done!" a friend said to me just the other day. I have heard this so many times in my years of ministry and times when I am hanging out with my friends. In my journey as a parent of adult children, I have experiences in which I have done it well and other memories of times that I did not do it well.
As Christian parents who have done our best to raise them in a way we believe is pleasing to the Lord, we are well aware of Genesis 2:24 that says, "Therefore a man shall leave his father and mother and be joined to his wife, and they shall become one flesh." We know that this pertains to our well brought up children, but I think we don't necessarily apply this to ourselves as those parents referenced in that Scripture. The "leave" is the part of the Scripture we are supposed to abide by as well. The parents are to allow them to move on in careers, choice of spouse, raising their family, and in lots of cases to even move away. We should not be making decisions for them or putting pressure on them to be making the decisions that we want.
No manual went home with you from the hospital, and even if you received one, you would have to get a new one for the next child. Every child is different. I learned late that you cannot treat them the same because they respond differently. My oldest son jokes that he was the guinea pig, which is true to some extent. As a young parent, you apply what you have seen others do; you read books, and, of course, the current trend now is to scour the internet for the latest information and listen to podcasts on how to raise children.
This small bundle that you loved unconditionally from the moment they were laid in your arms has taken so much mental and physical energy, planning, finances, and dreaming to bring to adulthood that we have a hard time letting go when it is time to allow them to spread their wings and fly. Several friends questioned my sanity when my oldest son decided to go across the country to get his Ph.D. Why would I want him not to follow his dreams? If I've raised him in the admonition of the Lord with expectations of seeing him dream and then follow those dreams, it is not my place to then stop that process and squelch his growth and prosperity.
Oh, But It's Not Easy
Was it easy? Did it happen without much prayer and planning on my part? I certainly had to walk in peace in this to be the support and encouragement that he needed to do something this big. One of the best Scriptures to have planted in your heart for all seasons is John 14:27, which says, "Peace I leave with you, My peace I give to you; not as the world gives do I give to you. Let not your heart be troubled, neither let it be afraid."
This says that we can walk in a peace that the world does not understand. It says "My peace," which is Jesus' peace, the peace that Jesus walked in while He was on earth. The Lord said, "I leave My peace," and that means He left that with us and for us to be able to walk in a supernatural peace that the world can never understand. It gives us the ability to do things that are hard but right, difficult but confident, tough but peaceful.
When we can be right and confident and peaceful for our children when things are hard, we are showing another model that they see us trusting the Lord for the next step in their life. It is like a trainer who has spent time and effort to train a person to do the skill they have been assigned to train them to do, and then that person is sent to do his job with that training, the trainer should be confident and sure that he has prepared the trainee to be successful and accomplished.
It is not easy when you disagree with them or you see a direction they are heading in that you are concerned about. Prayer is your best friend at this point. Just as you prayed for them when they were younger, prayer will keep you in peace.
Click here to read more.
SOURCE: Crosswalk, Jaida Campbell